VARIOUS ARTISTS: Wolf Call
Tall Cool Ones from the Valuts of Golden Crest (Norton Records)
By: Alex Steininger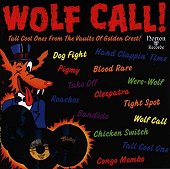 Nobody knows how to do golden rock 'n' roll like New York's Norton Records, the label when it comes to timeless treasures in the world of rock. On their latest collection of classics, Wolf Call! , Norton delivers howlin' rarities from 1957-64, pulled from the vaults of the fabled East Coast wax label, Golden Crest.

The soulful stomp of Gino's "Hand Clappin' Time," Senators' rock 'n' soul on "Loretta," and The Wailers golden R&B on "Tall Cool Ones" (where the compilation gets its name from). Also, the Cyclones' "Take Off," dishing out enough steamy rock 'n' roll to cause dehydration and Paul and The Four-Most's "Cut Out," another foot-stompin' rock party, make this compilation a vital collection of the classic R&B, soul, and rock 'n' roll sounds that shaped music forever.

Wade Curtiss and The Rhythm Rockers, Prince Jesse, Mando and the Chili Peppers, Donny Lee Moore, and the Wigs, among others, also help make this twenty-four track compilation a near hour must for any rock 'n' roll enthusiast, party goer, or hipster that wants to really be hip. Actually, scratch all that. This is a must for any fan of music. Enough said; I'll give it an A.