VARIOUS ARTISTS: Choice Picks
Celebrating the 10th Annual International Bluegrass Music Awards (International Bluegrass Music Association)
By: Alex Steininger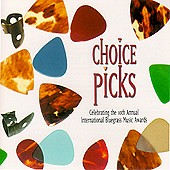 " Choice Picks re-focuses our attention on what a phenomenal decade it's been for bluegrass and reminds us of the excellent music these award winning artists have given us. On top of that, the project is a fund raiser for the International Bluegrass Music Awards," explains Jerry Douglas, multi-award winner and producer of the album.

Celebrating the past decade in bluegrass, Choice Picks is a twenty track compilation filled with the biggest and brightest in the bluegrass genre, including Jerry Douglas, Del McCoury, the Nashville Bluegrass Band, Alison Krauss, and Vince Gill, just to name a few. With over an hour of music, this seems the perfect introduction to anyone curious about bluegrass, and a great addition to any bluegrass fans' collection.

Jerry Douglas' "Shoulder to Shoulder" is a warm, comfortable opener for the album with its hot fiddle, sweet banjo, and sunny mandolin all floating over a relaxed, but enticing rhythm section.

The Del McCoury Band's "Cheek to Cheek With the Blues" is another stomping dancer, perfect to put on the stereo or play at a party when you want the dancing to light up like the night sky. Lynn Morris' "Mama's Hand" is a gentle, tender, emotional piece that will put it all back into perspective and give you a chance to sit down and just relax while enjoying something grandiose and soothing.

The Lonesome River Band's "Hobo Blues" is everything you'd expect from a bluegrass band: various vocal harmonies, a warm fiddle, the clatter of the mandolin, and a dance beat only a fool could resist.

The entire album is like this. Track after track, you'll either be sitting down and enjoying a soothing, emotional piece or a stomping dancer. There isn't a track that misses on here. So bluegrass fans and people who want to be bluegrass fans take note - here is what you want. I'll give it an A-.