VARIOUS ARTISTS
The Center of the Universe (Owned & Operated)
By: Alex Steininger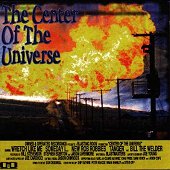 THE CENTER OF THE UNIVERSE features all five acts currently signed to Owned & Operated, the label owned & operated by members of ALL and Descendents. A powerhouse punk label (what else would you expect from members of ALL and Descendents?), each band contributes three cuts of their brand of punk to fill out this fifteen track compilation.

Starting it off is the fast, heavy, and ultra-rough Wretch Like Me. "Now's The Time," "Seeing Me," and "Wriggle" all possess the charge, fury, and melody this band is so good at. They'll break you down with some of the wickedest punk rock you're likely to hear, but they still manage to let the melody drive the song.

Someday I... play barroom hardcore meets tripped-out emo with some sloppy rock 'n' roll attitude. The songs have a sting to them and bite down hard, but are too loose and drunken to really land the punch they keep swinging.

Quirky usually applies more to pop music than it does punk, but Chicago's New Rob Robbies fuse quirky rock with punk to come up with one of the most unusual, yet refreshing punk rock sounds as of late. "Lighted From Behind" didn't really stick with me due to its rather bland style, but both "It's Your Drinking, Dam It" and "Come and Go" had the quirky, bouncy punk-pop that really strikes a chord.

Tanger seems to be the dud of the disc playing watered down hardcore-metal that tries to pass itself off as punk. What's more, they don't sing, they just talk while the music blares in the background. Needless to say, all three tracks were a wash.

Bill The Welder's potty-mouth, blunt-talking fury of drunk-punk mayhem, on the other hand, takes it back to the basics. Everything is typical three chord punk; nothing's out of the ordinary. But, for some reason, Bill The Welder easily pulls it off with their humorous lyrics, fists-a-flying moves, and general disregard for anything else 'cept having fun and kicking the shit out of their listeners. I'll give the album a B-.