Save Ferris
Modified (Epic Records)
By: Alex Steininger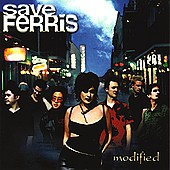 Southern California's reign is over. The breeding ground for major label pop-punk-ska has gone dry (at least as far as the mainstream is concerned). Yet, a few bands are still left, one of them being Save Ferris, a band who made their name within the pop-ska community when the word "ska" meant a build in fan base and record sales. The aptly titled MODIFIED is their response to the trend and their chance to re-connect with their audience. The ska has drastically left their sound. Instead, they opt to go with a pop, if not pop-punk sound. But, the ska still shows its face now and then.

Even frontwoman Monique Powell has decided to 'modify' her look, going with a Glam look this time around. But, for some reason, no matter how much I try, I just can't hate them. She's cute, has a good voice, and the pop is sugary and sweet, making their music instant filler every time you have a candy-coated craving.

"Turn it Up" is a punchy pop-punk ditty that has enough sugar to make your mouth water. And, once you bite into it, the buzz rushes through your body and keeps you wired to the music. "Your Friend" and its blaring horn lines keep you listening with peppy, energetic beats that get you bouncing. Then, the slight inclusion of ska gets you dancing, while the bouncy beats keep that feeling alive the remainder of the song.

"Angry Situation" is a charged pop-punk number with ample horns to drive the energy level through the rough. All while Powell's vocals go from sweet to in control, making the song a two-sided sword; one cuts right through you while the other is as harmless as can be.

Falling prey to the typical So. Cal pop-punk sound, "Mistaken" could very well be the band's debut track on Fat Wreck Chords or Epitaph. Matter of fact, the whole album could fall into that category and be rubbed off as another pop-punk flavor of the month. But, the sugary pop beats are just too sugary and Powell's voice is just too good to allow this to happen.

I find myself listening to this album and wondering why I get drawn in every time it plays, even when I consciously try not too. It is a typical So. Cal pop-punk album with ska sprinkled throughout. But, the energetic horns, peppy beats, and frontwoman Powell's touch keep them hovering above the mediocre marker line and make them something enjoyable to listen to. There, I've said it. I enjoy it. I'll give this album a B+.