VARIOUS ARTISTS: Austin Powers - The Spy Who Shagged Me
More Music from the Motion Picture (Maverick)
By: Alex Steininger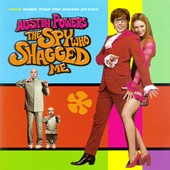 With sales of the original Austin Powers - The Spy Who Shagged Me soundtrack selling in excess to 1.7 million units, Maverick Recording Company is following it up with MORE MUSIC FROM THE MOTION PICTURE, which coincides with the DVD release of the movie. Unreleased tracks by the Bangles, Propellerheads, and They Might Be Giants, as well as some classics used in the movie, keep the soundtrack from bombing (which sequel soundtracks usually do).

I was happy to read in the press material that these songs were actually used in the movie. There's nothing worse than getting a soundtrack for 'that one song' you liked in the movie only to find out that very little of the music in the film actually made it on the soundtrack. Of course, if this problem is avoided on the first soundtrack, chances are it will pop up on the second one. Though, it's very reassuring that neither of these are true.

The Guess Who's "American Woman," which Lenny Kravitz covered for the original soundtrack, adds some spicy hippie-rock. Marvin Gaye's "Let's Get It on" adds some steamy soul. Then there is They Might Be Giants' "Dr. Evil," which puts eclectic, tingling pop into your mind. Steppenwolf's "Magic Carpet Ride" helps add the psychedelic touch (which is a must in any Austin Powers-related item), while George S. Clinton's "The Austin Powers Shagaphonic Medley" roller-coasters through various crucial sounds found throughout the movie.

It's very diverse and eclectic, which I don't usually go for on compilations. But, with the theme of Austin Powers tying all the songs together, and the general substance found throughout the movie, it all works together to help further the feelings of the movie. I'll give it a B.