VARIOUS ARTISTS
Austin Powers: The Spy Who Shagged Me Soundtrack: Music From The Motion Picture (Maverick Records)
By: Alex Steininger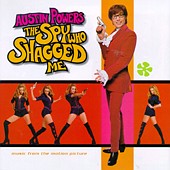 We've all read, heard about, and seen the trailers for the follow up to the movie Austin Powers, Austin Powers: The Spy Who Shagged Me. Now, the first one was good for a few laughs, but from what I've heard and read about the Spy Who Shagged Me (Yes, I have yet to see it), this one is twice as funny and good for even more laughs. And with any blockbuster movie, you've got to have a decent soundtrack. Besides a few obstacles, this compilation seems to really hit the spot and meshes well with the whole theme behind Austin Powers.

From Madonna, The Who, Lenny Kravitz, Melanie G (AKA Scary Spice) and Green Day to Dr. Evil (the villain in the movie) doing his own version of Will Smith's "Just the Two of Us," this album is psychedelic, intriguing, and funny. Dr. Evil's song on a very "sensitive subject" is a ball of laughs, and if this song is any indication, the movie has to be drop-dead funny.

Burt Bacharachi & Elvis Costello's "I'll Never Fall In Love Again" is another high point on the album. Sensuous and delicate, the song has all the right parts to make it an addictive, relaxing, and emotional pop song sure to make you keep coming back for more and more. Elvis Costello's voice is undeniably beautiful and adds to the soft mood of the song, while spiking it with some pain as well.

Then we have The Flaming Lips with "Buggin'," a trademark quirky-pop song that has the Flaming Lips stamp all over it. These guys know how to make lush, humorous, and catchy pop songs -- and they make it seem easy. The Flaming Lips sparkle and help make this album the pop treat it can be.

Now, going from Madonna to the Who, then jumping through Dr. Evil and a solo Spice Girl could be a clear-cut sign for disaster. But, despite the initial awkwardness of it all, the album actually manages to pull it off. Sure, if this were just a compilation album, it would be a flop. But, with the Austin Powers tag attached to it, everything falls into place and works. I'll give it a B.