Evan Olson
One Room (Cherry Disc/Universal)
By: Alex Steininger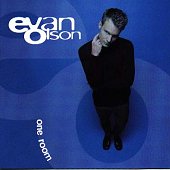 Evan Olson, the Greensboro, North Carolina singer-songwriter (who fronted Majosha, featuring Ben Folds as a member), wrote, played every instrument, produced, and even mixed his major label debut. On top of all that, he did all of this at home. And, when given the chance to re-record the album at a more elaborate studio, he declined, noting, "The thing that matters most is the inspiration and feeling that a song emotes, so a more elaborate recording process doesn't always make it better."

The first single, "So Much Better," which, coincidentally, starts the album off, is a blistering pop number that borders dance and rock, teetering between danceable grooves and a rocking rhythm kick. "Manhattan" mixes roaring guitars with a light, poppy bounce to give the song a nice rock background while the soothing pop takes the forefront. Then there is "One Day," a steady, soft number that floats by, but still has the rhythm section bounce to keep it from going stale.

Though the CD suffers from a modern pop-rock feel, qualifying it to fit in perfectly with the commercial mass appeal majors hope for, it still has balls now and then. And, when the balls are present, Olson stands out as a fine songwriter with plenty of chops to burn. I'll give this album a B-.