Sky Cries Mary
Seeds (Collective Fruit)
By: Alex Steininger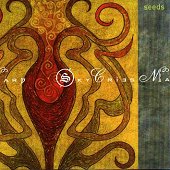 The first new Sky Cries Mary material to be released in two and a half years, SEEDS, a four song EP (with a film by Roderick Romero), finds the band playing neo-psychedelic grooves that, like acid, start to formulate both mental and physical images in and out of your head. Now free of label confinements, SEEDS was recorded at home in between touring, and is released through Seattle indie Collective Fruit.

Never a big fan of Sky Cries Mary or their tripped-out, industrial to psychedelic styles, the grabbing vocals of Anisa Romero and the fluid, most likely drug-induced feeling of Sky Cries Mary's latest four songs someone penetrated my head and started sounding decent. Too decent; good even. After a few listens, the grooves that they thrive on, and the tripped out weirdness that is their music soon permeated inside my head and started to really grow on me.

"Remember Me the Wind," "Chickaboom Cocktail," "Sonho," and "Cloud Splitter" are all different drugs that seep into your brain, and unlike the chemicals, give you the effects with no long term damage. Still too long for my attention span, though, these four songs definitely offer a lot of promise and light on the future of Sky Cries Mary. I'll give it a C.