Skunk Anansie
Post Orgasmic Chill (Virgin Records)
By: Alex Steininger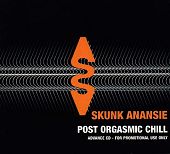 London's eclectic quartet Skunk Anansie are about as predicable as an earthquake. They can be soft and poppy, they can rock harder than most bands out there today, or they can make you dance. On POST ORGASMIC CHILL you'll blow your mind as they take you on a trip you won't easily shake off.

"Charlie Big Potato" starts out like an electronica dance number before ripping through some groove-filled, heavy rock that still manages to keep some melodic sense through the female's beautiful lead vocals.

"Tracy's Flaw" is a soft, poppy number that will have you spinning your head; you'll wonder how a band can rock and shock and then turn around and soothe your heart with some tender pop. But, don't think the ride is over. "Secretly" will have you singing along with the melodic, dance-induced, poppy tinglings the band develops and keeps developing throughout the song.

Of course, they don't pass on the rock. "Cheap Honesty" finds the band mixing their pop inklings with some heavy guitar riffs that will rip down your spine and have you shaking in cold sweats. And then on "And This Is Nothing That I Thought I Had," they'll have you sweating even more with even more aggression and noise.

I must say, this band can truly be eclectic without alienating anyone. They aren't afraid to place metal and pop, hardcore and tenderness, or other styles of music next to each other. Matter of fact, they're not afraid to introduce them to each other and place them in the same song. I'll give this album a B.