Critters Buggin
Amoeba (Loosegroove)
By: Alex Steininger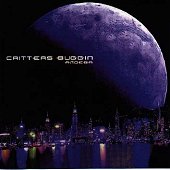 Recording an album in four days (including mixing and mastering it), AMOEBA is the result of four guys, four days, and an ambient-electronica sound that runs ramped. The songs are sparse, distant, and often surreal, leaving you with an illusion of another world light years away from ours, but at the same time right next to you.

The songs often blur the line between noises and music, making you wonder if the various sounds that blend to form any given song are indeed instruments specifically used to make music. Or, if the noises are various sounds from our head that we can't hear, but Critters Buggin are able to replicate and put to tape for us to realize they exist.

No matter what you think of Critters Buggin, their ambient-electronica style, or this album, you won't walk away from this disc without leaving with a feeling of confusion, curiosity, and perplexity. And on that level, they deserve credit for their innovation. I'll give the CD a C+.