The Bicycle Thief
You Come And Go Like A Pop Song (Goldenvoice)
By: Alex Steininger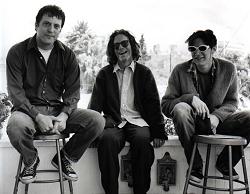 Bob Forrest, former frontman for Thelonious Monster, is back with his first album in six years with his new project, The Bicycle Thief. Trying to get out of his messenger job, and with the help of friends, he landed on this project with collaborators Josh Klinghoffer and Kevin Fitzgerald. The outcome is a sweet pop album full of hooks, sincerity, and heart.

"Rainin [4AM]" really struck me right in the heart. The tenderness; the emotions; the purity; and, most of all, the honesty that pours out of every note is right there and in your face; not to mention the pop hooks, which are always a plus. Other songs like "Offstreet Parking," "MacArthur Park Revisited," and "Cereal Song" all have the same elements that made "Rainin [4AM] so good. They're straight from the heart, honest, and fun. It seems like Forrest is really enjoying himself again and that this is what he wants to do. It does not sound like a chore or a failed attempt at breaking out of the stale life he's in.

The vocals took me a while to get into. They're a bit feminine at parts, which doesn't mix well with the solid pop hooks and the underlined rock beats. But, they're so pure and honest (with lines like "I'm thirty-five years old now/ I wash dishes in a restaurant" from "Cereal Song") that you can't help but enjoy them no matter what. And, since I put so much into the lyrics, I soon forgot about the voice (which grew on me) and really got into this album. It's well structured, powerful, and gripping. What more could you ask for? I'll give it a B+.