Gaelic Storm
Herding Cats (Higher Octave)
By: Alex Steininger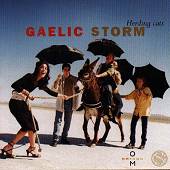 Cast as the "Steerage Band" in the blockbuster movie Titanic, Gaelic Storm got some nice exposure to the masses. Now, with their latest, HERDING CATS, the band hopes that exposure translates into a wider fan base. And with their Celtic sea chants, bluegrass influences, and drinking song mentality, the band is poised to due just that.

"Drink the Night Away" is the perfect drinking song, conjuring up plenty of momentum to ensure you have a blast. Irish-edged vocals, a sharp fiddle, a dance-able rhythm section, and a huge Celtic touch makes sure this is one track you'll want to sit and relax too with a nice pint of beer trickling down your throat.

But bold drinking songs are not the only thing the band is about. "The Ferryman" is a boatsman sing along you won't soon forget. Plenty of ocean charm and Celtic pride, the band does what they do best (making you fall in love and dance with their music) and keeps the momentum at a non-stop pace.

Of course, "She Was the Prize" shows yet another dimension to the band. An easy-going ballad full of Celtic beats, Irish vocals, and a warm heart that will not only make you want to fall in love with the music, but fall in love with the character in question.

You can't lose with a good drinking band and Gaelic Storm is that band. Raise your glasses to them, take a big gulp, and get up and dance, because that is exactly what you will be doing with this Celtic charm. I'll give it an A-.