Frenzal Rhomb
A Man's Not A Camel (Fat Wreck Chords)
By: Alex Steininger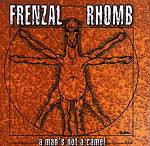 On their Fat Wreck Chords debut, Australia's Frenzal Rhomb kicks out pop-punk so sugary it will give you a cavity just by listening to it once. This four-piece knows how to write a good hook, a strong melody, and still find space to shove in some energy to charge up the sound and make it sound fast.

I'd seen Frenzal Rhomb live before, and they didn't impress me that much. So, to be truthful, when I first put in this disc I thought it was going to be some weak pop-punk junk I'd listen to once for the sake of reviewing it, and then probably never listen to it again. But the first two tracks, "Never Had So Much Fun" and "You Are Not My Friend" quickly made me think twice about this disc and give it an in-depth listen. And after I did that, it grew and grew on me, until the sugar-coated pop-punk was bouncing around in my head and I just couldn't forget it until I listened to it again.

"I Miss My Lung" shows the band's humor in a poppy, folkish ditty. The song isn't charged like the pop-punk this band is all about. Instead, they slow things down a bit for some tongue-in-check humor that will easily put a smile on your face. "Let's Drink A Beer" is a song about the band's favorite beverage. Although they pick things back up again and jump into their pop-punk shell, the song just doesn't have the pop and sugary feel that make them so catchy. This song passes by without even a second thought.

"I'm The Problem With Society," on the other hand, has the pop buzz that makes their punk so easy to digest. Being a big fan of pop music, it's always great to hear a good melody and pop hook, and another song that captures the band at their catchiest is "Do You Wanna Fight?"

This album has its down side. There is a lot of material that sounds like all the other pop-punk out there. However, the standout tracks like "You Are Not My Friend," "I'm the Problem With Society," all the others I've mentioned, and a few others clearly stand out with a gloss that will hook you and make you a fan. I'll give this album a B-.