The Dirty Dozen Brass Band
Buck Jump (Mammoth)
By: Alex Steininger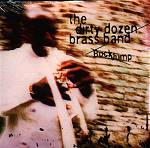 Pushing the envelope on what a brass band exactly means, New Orleans' The Dirty Dozen Brass Band is as jazz oriented as they come, while also keeping things eclectic -- ranging from rock 'n' roll to funk. On their eighth album, they seem to be pumping with vitality and enthusiasm, which will make you, the listener, come alive and enjoy every note.

Starting out with some funky jazz, "Unclean Waters" will undoubtedly get your hips shaking, feet moving, and body swinging. The horns lead with some big, heavy sounds that capture a steamy essence and lock it inside the music for all to experience. The solid arsenal of beats courtesy of the drums help further your dancing experience, while the keyboards glide through the song like a welcomed breeze on a hot summer's day. Everything is perfect, the mood is right, and fun is inevitable with these guys.

"Duff" allows the band to show their chops. As the drums start to set the pace for the song, the barrage of horns will take you away. The band has the talent and will to produce hard pounding music that is soothing to the soul. Highly energetic and flammable, the horns fly through the song with such ease, despite the complicated sounds the band seems to be unraveling, that you can't help but get into the mood and move to every note.

"Old School" seems to be an appropriate title, as the band seems to go back to an old school New Orleans jam session, just letting the music do all the speaking for them as their fingers do the walking and the instruments do the talking. Then there is "Inner City Blues (Make Me Wanna Holler" which demonstrates the blues influence the band possesses. They're great at jazz, but able to shake things up with a variety of other styles, much to the enjoyment of the listener.

Going out with another party, "Nuttballus" shows the band just jamming away as the instruments take control of the air and put the listener at ease. Everyone seems right on the mark; the song is breathing with so much life, it feels like you're at one of their live shows rather than listening to them on your stereo.

Able to stretch the boundaries of jazz, to include the blues, R&B, as well as funk, these guys have the chops and vision to keep pushing themselves, and their music, so the listener will always have fun and never get bored. Not one stale song will be found here; I'll give it an A-.