Keller Williams
Buzz! and Spun (Basil Leaf Music)
By: Alex Steininger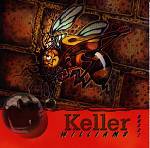 Keller Williams is not just a folk artist from Virginia. His folk blend mixes in various influences, from the country vibes that flow through the banjo and mandolin, to the tribal sounds he accomplishes through various instruments used on this disc. His debut disc, 1996's BUZZ!, seems move adventurous than 1998's SPUN, while the later has more structure to it.

BUZZ! opens up with "Sunny Rain," a country jam session with a tribal bite. Williams' isn't always the craftiest at lyrics, but the sweet sounds of the mandolin, banjo, and guitar combination seem to strike a few chords, and will have you grooving like you've never grooved before to folk music.

"Stinky Green" shows the straight-ahead folk side of Williams, which seems to be amply supplied with a funk heart to it. The guitar work shimmies and shakes, while Williams' voice strives for the gentle folk realm.

Then there is the pure tribal experimentation of "Anyhow Anyway," which quickly shows the diversity that has been spread out throughout the album in its cleanest form. It's different than the album's general texture, but Williams' smoothes it out and makes it fit.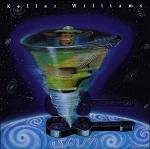 SPUN, on the other hand, seems to focus purely on the folk side of Williams, while still offering up other influences, but in a tighter folk environment. "Thirsty in the Rain," a cover song, is a melodic folk-country number that shows the gentle, laid-back spirit of Williams in full bloom, while also giving off some nice grooves to dance too.
"Running on Fumes," the album's opener, mixes the funky guitar work of Williams inside his folk structure, creating a mood much like "Stinky Green," whereas you'll be moving and shaking like you've never done before to a folk song.
The lyrics aren't always the best, and sometimes take away from the song a bit, but Williams' guitar work and confident voice always seem to help the song recover. Both albums are very strong, but SPUN has age and maturity over BUZZ! I'll give BUZZ! a C- and SPUN a B-.