Korea Girl
Korea Girl (Asian Man Records)
By: Alex Steininger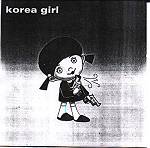 Korea Girl shares male/female lead vocals while playing indie pop-rock music. Trading off between the two, they're best when the female has the lead vocal position, but the male has the ability to carry his own; but at times does get tiresome.

Like on the leading track, "B-Side." The music is poppy, with a nice lo-fi quality to it. But, the male doesn't do the song justice, often over-powering it. The female's backing harmony helps keep the song flowing, though, which makes it a warm opener for the disc.

Maybe I'm just not giving the guy a chance, since I love the female's voice so much, and when she leads the songs are so gentle and relaxing. Or maybe he really can't pull it off as well as the female can. At any rate, "Under The Sun" and "Reunion" show the power this band is capable of, as the female takes control of the mic and spills her heart out. Her soothing voice mesmerizes and brings the songs to life, while the faint percussion and warm guitar work help brighten up the foundation under her.

On "Serpentine," though, the male vocals lead the way and pull it off without a doubt. Where as before he let his vocals control the music, now he lets the music lead the way and just goes with the flow, resulting in a soft, soothing number that will creep into your heart while you take a liking to it.

"Democracy & Kings" is another lo-fi pop-rocker that properly works in the male vocals. The soft nature of the song goes well with the almost overshadowed vocals, a nice contrast to the opener.

A quirky, twenty-seven second song, "Hey Akane!" and five very lo-fi, quiet numbers help round out the disc. If you're looking for some sweet indie-pop that also contains enough energy to wrestle with the rockers, while never losing any sincerity or emotions contained in the soft moments, you'll take a liking to this one. It is sweet, innocent, and very gentle, without being too soft. I'll give it a B+.