Joy the Bug
Many Mighty Massive Malls (Proper Pop Records)
By: Alex Steininger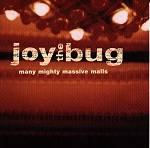 Fronted by the songwriting, singing, and guitar playing of Elliott Powell, Joy the Bug writes pop-rock songs with power. They're able to throw out some loud power chords next to sensuous melodies, all the while making sure you're always hooked.

"Little Red Men" and "You" are both powerful pop-rock numbers that have a sweet, melodic base and tender side to them, while also picking up the pace and jumping into some harder-edged rock during parts of the songs. When you've finally grown tired of the pop side, they'll wake you up with some rock, before laying you down to sleep again with some more beautiful pop tunes.

"Impossible Crush" finds the middle ground, keeping the soft and hard present at all times. The song isn't soft or hard, but is a driving pop song with all the elements of soft and hard mixed into one, which forms a bouncy pop sound that will make you jump around, smile, and sing along.

Then there is "Always Something," which brings forth the softer side of the band. Though they still jump into some rock beats like in "Little Red Men" or "You," the majority of the song is not a trade-off like them, however a very steady, soft number that wears its emotions on its sleeves.

Joy the Bug can be massive, faint, or solid, it all depends on the mood they want to create to go with their songs. The songs tend to drag on, though, but other than that, the band has a solid sound. I'll give the album a B-.