Custom Made Scare
The Greatest Show On Dirt (Side 1 Records)
By: Alex Steininger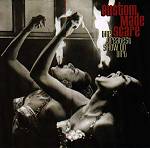 Taking the best of rock 'n' roll--from rockabilly to punk rock--and fusing it into their own sound, Custom Made Scare whip up some "Hot Rod Cow Punk" sure to make you sweat. The guys are aggressive, crazy, and full of humor -- everything rock 'n' roll is supposed to, and should, be about. If you thought rock was dead, or even punk for that matter, don't believe it. They're both just going under the alias of Custom Made Scare.

"Peterbilt" posses a chorus that will both make you laugh and ring around in your head for hours after you hear the song: "Baby I'll be your Peterbilt man/ Be my truck stop whore." A quick, minute and sixteen seconds, the band takes the aggression and speed common in punk music, the crazy, wild youth attitude of rock 'n' roll and fuse them together to come up with one ass kickin', beer drinking, good time sure to give you one hell of a work out.

The longest song on the disc, clocking in at two-minute and twenty-one second, "White and Lazy" is a white trash anthem if there ever was one. The rhythm section never stops, ripping through fast-paced, beer-soaked beats quicker than light, while the guitarist races around the chords to provide the fury the song needs. Amazingly, though, the singer is able to keep up; you can even understand him.

"5 O'clock" is another race-to-the-finish number that takes the word "fast" to the next level. The band rushes through rock 'n' roll riffs in a forth the time it would take a Chuck Berry or Buddy Holly to do the same thing, while also adding punk venom to it all.

"She's a white trash/ Cowpunk Tallahassee hussy," opens "White Trash Girl." The "oh's" courtesy of the backing vocals help add a nice melodic feel to the punk sound the band spits out. This is as sappy as the band gets. And, though the song could be considered a white trash love song, this isn't a ballad. It's pure speed and mayhem, and if you think any differently, it's going to knock you on your ass and never look back.

Ending with "Down With El Diablo," the band maintains the eleven track, nineteen minute, rage this disc brings forth with another quick punk combo sure to ring around in your head for quite some time. The downside, though, is that this is an instrumental, and you just don't want to hear instrumentals from a band this great at making you laugh with their lyrics.

You know, these guys were in town the other day and I missed them because I had prior engagements. Boy, did I miss out. I'm sweating just listening to the disc now. Here is a band that knows what rock 'n' roll and life is all about -- having fun while you're here. I'll give this album an A.