VARIOUS ARTISTS
Flying Rhino International Presents: Third Flight: Slipstream (Flying Rhino International)
By: Alex Steininger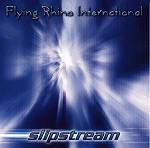 In their third installment of their SLIPSTREAM compilation series, Flying Rhino International brings you nine very different dance/electronica tracks from throughout the UK scene. Lasting seventy-seven minutes, there is plenty to dance too here.

If you're coming for the dance grooves and the music to keep you going for hours on end, you've come to the right place. But, while the music will keep you dancing and raving up a storm, the electronica found herein is long lasting, redundant, and too over played (with the average song lasting over seven minutes, half way through you're bored with the song) to really matter.

Artists such as Klein Aber Doctor, Mudless, Try it, and the Tribal Chord Projection all contribute to this piece of work, but regardless of their efforts, the project falls flat with generic electronica that over stays its welcome. I'll give the album a C-.