Atari Teenage Riot
60 Second Wipe Out (Grand Royal Records/Digital Hardcore Recordings)
By: Alex Steininger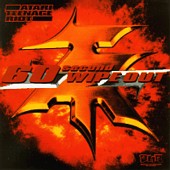 Fueled by a hardcore political drive, and an even harsher hardcore sound, Atari Teenage Riot takes electronica to the next level: a level that bridges metal, punk, hip-hop, and rock 'n' roll to bring forth one of the harshest, edgiest sounds available today.

"Revolution Action" opens the album with some furious electronic grooves that sit nicely under some of the loudest, most abrasive sounds you'll ever hear. If you think they've come to tame you with some dance music, full of frivolous grooves and happy-go-lucky beats to put a smile on your face, you couldn't be further from the truth. The band is able to make you dance and rave, as the backbeat for "Western Decay" proves, but they're capable of so much more; instead of pulling back the punches, they unleash it all.

"Ghostchase" gives you a lighter side of ATR. Instead of throwing everything loud at you, they tone down the song a bit, while still managing to pack all the aggression, all the fury, and all the screams that keep you on the edge from track one, but they also manage to mix in some grooves for you to shake too.

But that doesn't last long, as "The Virus Has Been Spread" quickly proves. Back to their trademark combination of loud mayhem, thick beats, and chilling screams, the band once again has you on the edge of your seat ready to jump at any movement.

Ending with "Anarchy 999," the band sends terror down your spine as they take control of all the noise around them and shape it for their usage. What else would you expect from an album this stable, this in control of its own destiny? When they scream, you listen, and when they start to wail away, you'll be stopped in your path. I'll give this album an A-.