The Candy Snatchers
Human Zoo! (Go Kart Records)
By: Alex Steininger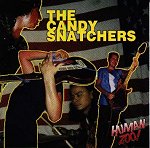 Taking you back to a time when punk rock was all about blood and guts, rock 'em and knock 'em down, beer drinking hoodlums kicking ass and having fun, The Candy Snatchers let loose on their latest release, HUMAN ZOO! Sixteen songs of pure excitement, there isn't a dull moment when these guys pick up their instruments.

Appropriately titled, the band's motto seems to copy the opener, "No Time To Waste." Fast and furious, they play as if the club has restricted them to a limited time for their set, and not wanting to leave anything out, they try and fit all their material into one big breath. As they hammer away at the rhythms and churn out non-stop power guitar riffs, the punk rock energy soars to new heights and keeps everyone sweaty and smiling.

"You Ain't No Fun" is another blast of punk amongst many. The vocals scream with an edgy passion that, although you shouldn't be able to understand it, for some reason it comes out loud and clear. The band is going to do everything in their power to stop you, too, by playing faster and louder, hitting the notes harder and with more impact, but the vocals just keep screaming and coming through.

Then something like "30 Grams to Life" comes along and offers up more mayhem, but allows room for a bit of melodic pop hooks, thinly spread on top of the punk rock standards they've set for themselves. The regular shout, yell, and growl vocals are still present, with the band screaming along, and with the slight pop urges the song carries, you'll want to shake your hips and fists along while leaving one hand open for the beer to turn your grin into a full-fledged smile.

No matter where you turn on this disc you're going to run into something powerful and exciting, full of energy and mayhem. This isn't your kid brother's pop band passing themselves off as punk, this is a hard-on, head-on blast of punk rock fury that refuses to be caged. The vocals aren't the greatest, but any other type of vocals wouldn't work with the music, so you come to like them. Otherwise, a sweat-soaked disc good for any vigorous activity you desire to indulge in. I'll give it an A-.