Kuscha
Sweet Little Lie (Self-Released)
By: Sonya Brown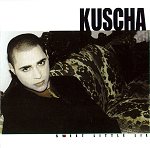 The 8-song CD "Sweet Little Lie" was written, produced and recorded by the German born and raised Kuscha Hatami (presently residing in Northern California). This solo project contains synthesized vocals and an aggressive style, with a definate emphasis on electric guitar.

With song titles like "Sin", "The Flesh", and "Pain", it is apparent that Kuscha has a passion for the darker side of life, and the statement on the inside CD jacket "Your God May Make You Blind" boldly reinforces that sentiment; however I was a bit more impressed with Kuscha's guitar work than the lyrical content of Sweet Little Lie. I discovered that Kuscha's guitar playing was the strong point of this CD, and there was a "heavy metal" feel to the guitar sound, which made it hard to pinpoint if Kuscha is more influenced by metal, industrial, or other categories of music; so I decided to ask Kuscha about his musical influences. He states that his music tastes were heavily influenced by the 80's heavy metal music and he actually started out as a lead guitar player in a few metal bands during the late 80's and early 90's. He states he was also heavily influenced by 80's new wave, and believes his sound is a marriage of the two, which he describes as 'Heavy Modern Rock' He names such bands as Depeche Mode, New Order and NIN; as well as bands like The Doors and Black Sabbath as some of the influences of his current style. I would have to pick "Sin" as one of my favorite tracks, even though it's one of the more lyrically disturbing tracks..... "place a gun under my chin, god help me for I have sinned"..... certainly not mainstream material, but I don't believe Kuscha is going for 'mainstream' with any of the tracks on Sweet Little Lie. His bio reads that Sweet Little Lie is "his anthem dedicated to the youth of the 90's and beyond." While I don't directly fall into that category, I still found something for myself in this CD. I guess it would be the way Kuscha attacks the guitar that is the main reason I enjoyed Sweet Little Lie. I'm looking forward to hearing his future projects.