Reel Big Fish
Why Do They Rock So Hard? (Mojo Records)
By: Alex Steininger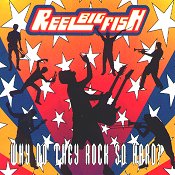 With their sophomore album (TURN THE RADIO OFF -- their debut for Mojo Records) selling in excess of 500,000 copies (that's gold), The Fishies have followed up with an album that clocks in more power-pop than ska. It still contains their lively sense of humor, though more bluntly than in the past.

"Somebody Hates Me" sets the tone for the whole album. Instantly acknowledging the fact that this album is a big 'fuck you' to everyone who called RBF sell-outs for having their songs on the radio, they make their discontent with trend-hoppers very clear. "Somebody hates me, and I hate somebody too," rings through the chorus, as a dark pop sense conveys their anger musically. The song also briefs the listener on the musical agenda for the remaining seventy-four minutes. Although there are traces of ska influences hinted at in the song, everything is pure power-pop top to bottom.

And, for those that didn't get the message in the opening track, "You Don't Know" gets right in your face and s-p-e-l-l-s everything out for you. Opening with, "Well, first of all I'd like to say fuck off (fuck off). If you don't you get it, why don't you shove your head back up your ass! Don't waste my time, I don't need your opinion," the song clearly puts RBF on the defensive. A mid-tempo upbeat gets you slowly dancing, helping to contradict the 'fuck you' theme of the song. Instead of yelling and screaming with punk venom, they use catchy hooks, triumphant horn lines, and an upbeat to keep you boppin' and dancing while they drill the message into your head. If you got it the first time, this song becomes too bitter for the sugar-pop/ska melodies really fast. Yet, if you didn't get it, this song is a waste of time -- you'll never get it.

Long a live favorite, "Thank You For Not Moshing" (formerly "In The Pit" off the Goldfinger/Reel Big Fish split 7") brings back the Reel Big Fish of old. That means, poppy-ska you can sing and dance along with, all the while slapping you along side the head with some FUNNY sarcasm. Maybe that's because they wrote this song before TURN THE RADIO OFF was ever released, and the 'dark' side of fame hadn't hit them yet. They weren't being blasted for being 'sell-outs' by the clueless, and the underground mentality was still supporting them. It seems back then they actually cared about letting their audiences having fun, rather than trying to force feed them with blatantly obvious sarcasm that comes off more like "Thanks for buying our album, but don't bother next time." With its 'old-time' RBF feel, this song will quickly become an album favorite.

"I Want Your Girlfriend To Be My Girlfriend," another blast from the past, revisits us all the way from their debut album, EVERYTHING SUCKS. Here's something a lot of guys can relate too, and it touches upon the bouncy, ska-infection that made Reel Big Fish gold artists. Power-pop carefully mixed with bouncy ska, for the first time on the album RBF has you dancing and moving around without a care in the world. Wasn't that their goal all along? If so, they've done it to a tee on this one. If only they weren't so bitter on the rest of the tracks, and could just sit back and have fun like on this one!

In their defense, though, they do manage to mix the post-RADIO OFF bitterness with sweet power-pop on "The Kids Don't Like It." Bouncy and fun lovin', just like on previous releases, the band sounds like their usual selves here. Sarcastic as heck, they don't bombard you with their anger. Instead, they kick back and just let the music have fun. Letting their troubles go for a few, they manage to create the same kind of atmosphere for the listener.

One last 'fuck you' to remind you just how bitter they are, "We Care" finishes off with some power-pop/theatric-pop. Nice vocal harmonies and solid pop hooks carry this song deep into your mind. Just when you thought they'd beat the topic into the ground, they manage to bring it back to life one last time -- this time making it enjoyable.

However you want to look at it, RBF is a bit too bitter (or sarcastic) for their own good. The album feels like a big slap in the face to all their fans. They could have gotten their message out in a lot gentler, easier way, instead of going at it full-blast and pissing off fans who got it the first time around. Still a catchy album, once you've digested it all it will grow on you. I'll give it a B+.