Merril Bainbridge
Between The Days (Universal Records)
By: Alex Steininger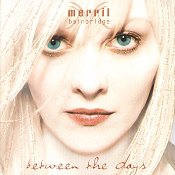 Based out of Melbourne, Australia, most of you will remember Merril Bainbridge from her pop hit "Mouth," which soared on VH-1, as well as on top-40 pop centered radio stations. If you remember that song, then you know the infectious melodies she is capable of. If you don't remember it, then you're in for a treat. On her new album, BETWEEN THE DAYS, she serves up more of her sugar-pop/dance melodies -- ten to be exact.

"Lonely" matches what was brought forth on "Mouth," while expanding on a female-controlled relationship theme. "But if you're lonely, kiss the boys and make them cry. It only hurts you for a little while, and we'll keep turning; turning 'round the sun. All the days role into one," rings through the chorus with such appeal, you can't help but wrap yourself up with the music and join in on the fun. Even guys will find this number hard to resist. You may end up becoming a closet listener, but you will become a listener one way or another.

Hard to match, "Lonely" is definitely the peak of the album. But, there are still other infectious numbers on this disc that propel it above 'one hit on album' status. The soft, dripping feel of "Stars Collide," the jungle-bounce-pop beats of "Hello," and the dreamy, acoustic nature of "Love and Terror" are some other pop songs you'll find yourself snagged on. As they roll around in your head, you'll quickly opt to put the disc into your player.

At first captivating you with her voice, the poppy bounce of each song is what will keep you listening. You may try to fight it off at first, but that will do you no good. Sooner or later you're going to have to face the fact that you enjoy the sugary taste of each song. As such, I'll give this album an A.