Frontline Assembly
Reclamation (Roadrunner Records)
By: Alex Steininger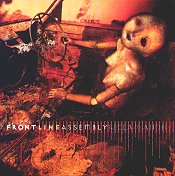 Leaders in the modern industrial boom, Frontline Assembly have always been ahead of their time. Spanning a five-year time frame, RECLAMATION is a compilation of material from 1989-1994. Proving just how far they were ahead of everyone back in 1989 (and 1994, for that matter), Frontline Assembly whips up some electronica/Industrial music that will have your head spinning.

With twelve tracks lasting nearly seventy-five minutes, it can be quite hard to keep a person's attention for that long. However, Frontline Assembly is able to shake off this fear and burst through with some whirling industrial beats that shatter, repair, and dismantle any objectives in their way.

The vocals, which are always a plus, are dark and twisted. Shouting out with a quiet demeanor to them, the music always stays one step ahead of the vocals, but the vocals always lurk in the background like a bad dream waiting to attack. As the drums penetrate your head and start rattling around in your mind, the vocals will take advantage of the situation and start taunting and haunting you.

Another aspect of the music that is very important is the keyboards, which play a massive role in making the sound send Goosebumps up and down your body, while creating a cohesive sound overall. Leaving not even a simple hole open for you to take a peak inside, Frontline Assembly leave their sound guarded to retain the rough, mysterious texture that defines who they are.

Industrial fans take notice, because without some Frontline Assembly you might as well switch to a new genre to like. Here is some authentic electronica/industrial music that embraces technology to the utmost, while creating shapes and imagery through each beat. I'll give this album an A.