Frontline Assembly
Monument (Roadrunner Records)
By: Alex Steininger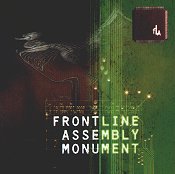 Being a leader in the industrial music revolution, Frontline Assembly has always accepted the title with all the responsibilities. They're able to stay ahead of the game with innovative, refreshing beats among all the bands they've inspired. Compiling various tracks to make up MONUMENT, they show that their decorated past is well-deserved, too.

Furious drumbeats line each song, forming the launch pad for the momentum that is carried throughout the disc. And with over seventy-three minutes of music, this is everything but an easy task. The songs differentiate considerably, helping to retain your interest all the way through.

Another important factor in the music is the vocals, which are added to the music in a way that gives the songs new life, rather than taking away from the piece (like some modern bands do). Not always the focal point, various screams, words, and phrases pop up throughout the disc, creating an unexpected tension that adds even more life to the music.

Stunning, captivating, and energetically controlled, Frontline Assembly deserves every bit of credibility they've established within the industrial community. Leaders for a reason, their music is creative, inspiring, and diverse in structure. There isn't a sound they can't program or mimic, and they'll prove this to you time and time again. If you're looking for some classic industrial, look no further. This re-issue has what you need. I'll give this disc an A.