DJ Spooky That Subliminal Kid
Riddim Warfare (Outpost Recordings)
By: Alex Steininger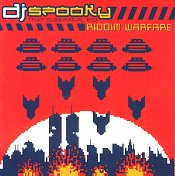 DJ Spooky That Subliminal Kid, a.k.a. Paul D. Miller, embodies not only music, but also many other art forms to create his trip-hop/electronica/hip-hop/groove creation. Truly a revolutionary, his music can be seen as a unified art form that calls upon everything in his art past to come to one conclusion. On his debut release for Outpost Recordings, he proves just why he is in demand so much.

Entering full bloom with "Synchronic Disjecta," he quickly draws you in and encompasses you with his world. A world of intrigue, mystery, suspense, and excitement, he'll have you at the edge of your seat as he combines samples with his unique DJ'ing/hip-hop style.

From there, there is no stopping him. Each song brings you deeper and deeper into his world, as you sit there and watch the music color the world around you. The percussion is always spacey, but still offers up ample beats to pulsate throughout your body.

Not only is DJ Spooky a mix master and a top-notch DJ, but he also is able to lay down acoustic guitar, electric/acoustic bass, and various other instruments in his music. Artist is the only visible word you can label him with, although it is hardly as colorful or as descriptive as DJ Spooky is.

Other tracks on this disc, such as "It's Nice Not to Lose Your Mind," "Scientifik," "A Peace In Zaire," "Bass Digitalis," "The Nerd," and "Theme of the Drunken Sailor," all paint different images inside the mind of the listener. Each track is, in essence, a different world, and the disc is where they all come together to share their common bond -- the love of sophistication and harmony.

One of the hottest (and well-deserved) DJ's currently on the 'scene,' DJ Spooky stands out as a true creator. He doesn't feed off of what has already been done, he blazes his own paths and leaves room for others to follow; and believe me, others will follow his lead. I'll give this disc an A.