Jeffries Fan Club
"Nothing To Prove" (Vegas Records)
By: Alex Steininger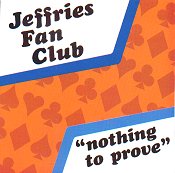 Yet another pop-ska act from Southern California? Well, yes and no. Yes, they are from Southern California. No, they're not just another pop-ska act flooding the market. Jeffries Fan Club is able to cultivate and carry out well-written, highly effective pop hooks (not to mention danceable melodies) that attach to the listener and never let go. On their second full-length, they prove to have matured in both structure and style, while still keeping the pop spirit alive and kicking.

For instance, take "One More Time." Starting off with some blaring horns centered around the upbeat, the song bursts into a heavy array of pop-ska. Then the vocals enter in, and the song takes on a new shape. A bit lighter, and not as much punk charge to it, you'll be boppin' and shakin', dancing and movin', and having a grand time. But even that isn't enough for them. They want to have your undivided attention. No problem, because when the chorus hits you'll be floored. Jumping into some power-pop, your heart will beat that much faster. Even after this song is over, the power of the chorus is so strong that you'll find yourself singing along with it for hours. Of course, without music you'll be driven mad. So, you'll turn right back to the song (and disc...) for another dose.

But "One More Time" is not alone. "Crystal 52" keeps the pop foundation, but this time adds more ska for your dancing enjoyment. Also mixing in a few more punk riffs, this song leaves all your options open. They'll be times you just want to madly dance, then they'll be moments of bouncing. All-of-a-sudden you'll fear the urge to bounce off walls, before quickly jumping right back into your dance. Just as you follow this pattern, so does the song. Playing follow-the-leader, there won't be a hook or line you won't be able to resist.

There are times the pop-ska will get redundant, and just when you think you can't take anymore, they'll slip another tempting hook, verse, or chorus your way, and you'll be re-charged and ready for more. Such is the case with "I'm Not The Type." Just when the verses get old, the pop-punk chorus slams right up against your chest, knocking the wind out of you until you regain consciousness and are ready for more music. After having this occur a few times, the song will really grow on you, and become one of your favorites.

Quick to prove they're more than your average pop-ska act, "Like A Dog" is a charming acoustic number with the same pop infection that lives inside every other song. Quite possibly the best track on this CD, the intimate feeling combined with the alluring hooks makes it a song that you'll be listening too for quite some time.

Jeffries Fan Club once again proves they've got the ability (and bad luck with women, for the most part) to write catchy pop songs about girls, love, and girls. Nothing that hasn't been done before, they add their own touch to the already charted waters and come out on top. A great album. I'll give it an A.