The Iron-Ons
Yeahwhatever (Vegas Records)
By: Alex Steininger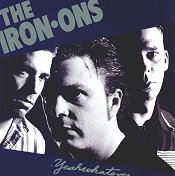 Playing thick, heavy punk rock, with a semi/lo-fi sound, the power chords fly as this three-piece cranks them out. The songs have substance and no melody, or they're dragged down by the mushy sound recordings.

As much as I tried to get into them, I just couldn't. They sounded like your typical, under-developed punk band that hasn't found their own, distinctive mark to slap their music with.

Another thing that I found terribly irritating about the disc was the fact that the vocals seemed to hide, or were forced down, behind the mesh of the guitar and bass. The drums, however, seemed the most energetic as they tried to break out of the box the music was trapped in. But, even with their best efforts, the drums weren't able to escape the 'blender' sound created on this disc.

There were some highlight moments on this disc, they just became overshadowed very easily. "Stock Bailout" and "Ted" had some great moments, as the hooks became more defined and the mushy punk became muscled pop-punk. I found myself getting into the song, and even though the sound was still slammed together, the hooks lured me in and kept me captive for the remainder of the song. It even got the point where these two songs forced me to go back and give the album another try, but even then I still found the sound too unclear and undefined to get into.

This album doesn't show a band that is only capable of generic punk, but that is the way it comes out after listening to the disc all the way through. If you were to just listen to the stand out tracks by themselves, you'd think the band was very promising. But when everything is said and done, this album just doesn't cut it. Maybe with a better producer, better recording equipment, or more attention on details this band could really ignite. I'll give this disc a C-.