The Brian Setzer Orchestra
The Dirty Boogie (Interscope Records)
By: Paula M. Sherman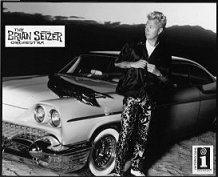 OK! We have ourselves here a TRUE ROCKING CLASSIC! Setzer is noted as saying that he's not going to stop till everybody gets a chance to hear them and jaws hit the floor. Well, my jaw is on floor and I'm very happy about it! And it hurts real sweet, sweaty and sexy! The days of the jitterbug ARE BACK BABY!

The Brian Setzer Orchestra is the product of a jam session. That's where the best music comes from as far as I'm concerned. One of the horn players at Setzer's next-door neighbor's house asked him to bring his geetar over to that session, and they mixed up the electricity of those strings with the horns that swing, and WHAM! Brian was influenced with Big Band music in his younger years. He took that influence, with the talent that sent him rocking with the Stray Cats, and ran with it!

I can't say enough about The Dirty Boogie. To incorporate the richness of rock n' roll, the excitement of blues jump, the growl of rockabilly, and the elegance of swing; all proves that Setzer and his band are pure musical geniuses! The potency of this release will have you either exhausted by the time you listen all the way to the end, or smiling from the memories it provokes and the mood it instills.
The band is the tops! Five sax players, four trumpet players, five trombone players, two bass players, one dude on drums and percussion, and THE MAN HIMSELF on the geetar and vocals! Gwen Stafani (No Doubt) is a special guest vocalist on "You're The Boss", and she does an amazing job. There is some more help by additional musicians, and I applaud all of them! Brilliance! Sheer brilliance!
I had a really hard time getting through this review. The first song wouldn't let me sit down long enough to write anything! "This Cat's On a Hot" Tin Roof was written by Setzer, and it's very much like a Chuck Berry tune. So that says it all!
"The Dirty Boogie", also written by Setzer, is a wonderful down and dirty tune! Truly dedicated to the man's dream of finding a woman and daydreaming about the potential. A wild one!
"This Old House" is an old Rosemary Clooney tune. My dad has this one, and Setzer breathes MORE life back into it. AND my dad, who is 72, loves what Setzer did with this song. This is a true classic.
"Let's Live It Up", another one from Setzer, is a cool jumpin' experience, involving a B-flat exchange between him and Chet Atkins. As Setzer says regarding this tune, "sort of jump blues meets Sinatra". Setzer, in a small way, sounds a little like Sinatra in this release in some of the songs. It's nice.
"Sleepwalk"! One of my favorites! It's an instrumental that needs a man and a woman dancing under the moonlight. Setzer bends and picks so much romance into this song. There is a glimmer of Glenn Miller in this song that brings a tear to my eye. Beautiful! I'm speechless!
Now, the next song is a priceless Louis Prima piece. Setzer's version is featured in a Gap commercial, if anyone of you remember this. "Jump Jive An' Wail" is the most thrilling piece of music that I've heard since Glenn Miller's "In The Mood". Now I'd love it if Brian and his band performed "String of Pearls" or "Little Brown Jug". And I can't imagine how spine tingling his rendition of "Moonlight Serenade" would be. "Jump Jive An' Wail" is like instant caffeine, and a definite jitterbug song. Everything about this cut is exhilarating! From the horns, to the bass and Gretsch geetar, to the vocals; it's PERFECT!
A sweet, hot, sexy song comes next. "You're The Boss", sung by Setzer and Stefani, is a breathtaking steamy killer. This was originally done together by Elvis and Ann-Margaret from the "Viva Las Vegas" soundtrack. You'll be fanning yourself on this one. The chemistry created in this song is enough to make you wish you were back in the 50's at a jazz/blues night club. The picture is painted so vividly that you can see the outfits, smell the smoke, feel the mood ~ the grind! Amazing!
The next one was said by Setzer to be a touch decision, but I'm glad he did it again. "Rock This Town" done up with horns and geetar, WOW! Patrick Williams (a prominent Sinatra arranger who also did 'Town Without Pity' on Guitar Slinger) helped Setzer with this new version. It was really nice to hear again, accented with such energy and power. And thanks to Williams, there was a pleasing gracefulness in those lines and little black dots.
A very elegant and spicy "Since I Don't Have You" sets a more tranquil mood. This is an old favorite and Setzer sings it with a lot of heart. Even though he's a rocker, his voice compliments this tune nicely. Bravo!
"Switchblade 327" is a heavy-duty romp! Setzer obviously had a classic running through his head on this one. He said he took two things that sound cool - a 327 Chevy engine and a switchblade and turned them into a character. Well done! A rowdy dude dressed in jeans and a leather jacket pops into my head.
"Nosey Joe" is another old one. Setzer explains this one perfectly, "A jump blues, like a Count Basie chart. Lyrically, you think it's going to be obscene but it isn't."
"Hollywood Nocturne", written by Setzer, illustrates the 40's Hollywood scene. I'm really impressed with Setzer's attention to detail when it comes to this era. It's a classic time that came and went and will never be what it was again, except through music. This song is chilling, skin-tingling, and well played out. Again, it makes you want to dress the part and tango!
"As Long As I'm Singin' " is a tribute to Bobby Darin, one of Setzer's favorites. It hops, it jumps, it swings, and Setzer has a lot of fun with it. It closes this release. When you get to the end, an unconscious smile will be on your face if you appreciate the generational connection that flooded this recording.
And as I'm writing this, I find myself sad that it's over. I really enjoyed reviewing this release, and I want to thank Interscope Records for supplying me with such wonderful information about the band, and sending me this incredible CD. Now it's my turn to urge you all who are reading, to GO OUT AND BUY THIS CD! I'm positive, if you dig any of the kind of music I just described, you've LOVE this release. I'm bouncing off the walls about how awesome it is! The passion behind the music is evident in every song.
It's a must have. I give it an A++. If I could give it a higher grade, I would. In fact, it doesn't deserve a grade. It deserves to be played, and held up there with all the classics that influenced Setzer and his band to record this release.