The Smooths
Very Own Vegas (Side 1/Dummy Recordings)
By: Alex Steininger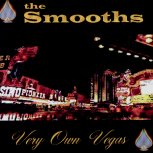 Originally self-releasing their debut CD, VERY OWN VEGAS, this Baltimore based ska band generated interest through touring, and wanting to bring their sound to a wider audience, re-released their debut on Side 1/Dummy Recordings. Mixing ska, pop, reggae, and a bit of punk, their unique sound is cemented in danceable melodies but also contains enough pop hooks to get you singing along and having fun.

Right from the get go these boys (and a female) get you dancing. "In The Grass" kicks off the album and will instantly put a smile on your face. Sometimes it takes me a bit to get into an album, or sometimes I have to listen to a few tracks before I hear the one that grabs me, but this one serves that track up right at the beginning. Blaring horns jump through the song, giving it a very warm feeling, while the guitar churns out an infectious upbeat that will get your feet movin' and your blood pumping. Mix in some hard hitting drums and a juicy bass, and the party has begun. The verses are strong, but when the chorus hits you'll be hooked. Your mind will quickly pick up on the words, and your mouth will start singing along. "Letter After J" serves up more catchy hooks and highly danceable melodies. The lyrics aren't the greatest, but for some reason the way the vocals spit out the chorus and the words in a rapid fire motion, combined with the bands intense power to capture your attention, makes me sing along with the words and enjoy them. Although I hate it when bands go on an annoying streak and just start rhyming each word, here it adds humor to the song, making the song stand out even more. On top of that, when they blend the words with such an addictive melody, you can't help but sing along. And I'll admit it, I started singing along and enjoyed it. "Property Is Theft" just keeps the goods coming. A powerful horn section helps add to the atmosphere of the song, while the hot upbeat is always the leader. A great rhythm section helps pull everything together and make it work, and they prove it here. Slowing down a bit, and toning down the intensity level just a tad, this song is all dance. Taking a break to let the horn players showcase their talent, the song breaks down to just drums and horns. Very steamy, within ten seconds you'll be sweating. "Tout Seul" combines fast verses with a nice hook, and then dives into a slower chorus. Very addictive, the chorus will turn heads. It's strong and infectious, much like all their other choruses, and will once again get you singing along. Pure pop, right to the core. Jump and bounce during the chorus, and then go crazy and dance during the verses. "Durango '95" drops a lot of the pop influences during the verses, and concentrates on a more traditional ska/reggae based mixture. But once the chorus hits, they show their punk influences bright and proud. Unusual bed fellows, yes, but they make it work. Ending the CD with "Bewitched," they close out everything with some ska-rock stylings.

The Smooths truly earn their name with this album. Very smooth, you'll be dancing and singing along from the first track until the last. Catchy, delicious, and fun are all words I would use to describe this album. It's what ska and pop are all about. I'll give this an A-.