Talking To Animals
Manhole (Velvel Records)
By: Alex Steininger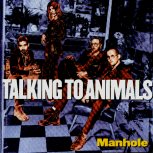 Talking to Animals is front women Juliana Nash's song writing ran through three people who help compliment the music and bring it to life (Greg Porter -- bass, Thomas Juliano -- guitar, and Mike Levesque -- drums). Blending rock with a pop touch, Talking to Aniamls' MANHOLE contains eleven tracks.

This is one of those albums that has some good points, some bad points, and a lot of the in between. It's listenable, but the problem here is that it never reaches out and just plain rocks, or settles down and becomes really poppy. It always finds common ground between the two and goes from there. It's that kind of mind set all through the forty-one minute album that makes it good for a few listens, but after that, you get pretty tired of it.

Songs like "Mouth Tattoo," "Breathe," and "Turning Into Beautiful" are the stand-outs on this album. On "Turning Into Beautiful" the band serves up a very upbeat, highly energetic rock number that has so much kick to it that your head will quickly turn into the direction of the stereo, and you'll be sitting there in amazement. The drums have perfect rhythm, and play in a very bouncy beat, so you'll find yourself tapping your feet along with the song. The guitar is strong, but soft enough to help drive the song through piles of melody. All this is going on while the bass is hammering away at the song, helping the drums form a very tight backbone for everything. But let's not forget Juliana's vocals. She can scream with the music and make it interesting, and then quickly jump into some more lady-like vocals with ease. With all the elements in place, "Turning Into Beautiful" shines as the best track on this CD.

Talking To Animals is a very decent band, actually they're pretty good. The problem is the perfection in the album. It's always tight and blends pop and rock perfectly. Except for a few instances, it never just jumps into one direction or the other. I'm willing to bet these guys create quite a sweat live, though. I'll give this album a B-.