Out of Portland, Oregon, five men, known as I Can Lick Any Sonofabitch in the House, deliver rock 'n' roll like no other.

"A fan in Louisiana came up to me after a show and said they thought we were the country version of Rage Against the Machine," laughs front man Mike D.

Mike D., a former army boxer, served in the 101st Airborne/Air Assault. He was born in Oklahoma, raised in Las Vegas, and, following his military service, bounced between Los Angeles and Dallas, Texas, playing bass in Mercury Records recording artists Tablet, a Dallas-based Brit-pop band that toured with Oasis.

After Mercury dropped Tablet, and the lead singer fell prey to a nasty heroin habit, Mike D. packed his bags, jumped on a Greyhound, and moved to Portland, Oregon. A few short years later, he began writing his own songs. Sick of playing other people's songs (he played in numerous local bands during this time), and sick of playing the indie-rock he didn't even listen to, he decided it was time to start his own band.

A longtime fan of boxing legend John L. Sullivan, the last bare knuckles fighting champion, Mike D. grabbed a band name from Sullivan's autobiography (co-written by Gilbert Odd): I Can Lick Any Son of a Bitch in the House: The Riotous Life of the First Heavyweight Champion. Dropping the latter part of the title, and turning Son of a Bitch into one word (Sonofabitch), Mike D. had a handful of songs, a demo, and a band name.

He played as many local shows as he could throughout 2001, and crowds were growing. Things started to take off for I Can Lick Any Sonofabitch in the House. The only problem: the line-up seemed unstable at best, with friends joining Mike D. on stage when they could.

After playing out for over a year, I Can Lick Any Sonofabitch In the House's line-up finally took permanent form, following the release of the band's debut full-length, 2002's Creepy Little Noises, released on Portland-indie In Music We Trust Records.

On drums is Flapjack TX, a Who-loving, prolific drummer that gives the songs the muscle they need to bite down hard. AC/DC-freak bassist Mole Harris adds an indie-fried-meets-hard-rock sound to the band. Blues-bred David Lipkind, the band's harp player, gives the songs the Southern spice they need to really set the listener on fire (he is also long-regarded as the band's not-so-secret weapon). And, last but certainly not least, is guitarist and engineer/producer Handsome Jon Burbank, a huge fan of NOFX and At The Drive-In, and the man that brings the punk rock to the band's already aggressive sound.

With a line-up in place, and Creepy Little Noises garnering rave reviews, the band toured relentlessly. After six grueling months of touring, they quickly entered Burbank's tongue-in-cheek named studio, "It's Cold, It Stinks, and I Don't Like The Way It Sounds". The results of those sessions were the eleven songs that comprised Put Here To Bleed, the band's sophomore release, also released on In Music We Trust.

With another long year of endless touring behind Put Here To Bleed, I Can Lick Any Sonofabitch in the House once again entered Burbank's studio to record their third full-length, Menace. The band also got the opportunity to track a few songs at Stone Gossard's (of Pearl Jam fame) Litho Studios, after playing several shows with The Supersuckers and converting the 'Suckers sound man, Dave Fisher, into a fan. Hell's Belles, the all-female AC/DC cover band, who are another band SOB (as fans call them) has graced the stage with several times over, make an appearance on the record, with members doing backing vocals on two tracks.

Fans of Put Here To Bleed's political commentary will not be disappointed with the even more controversially political mindset of Menace.

The album's most outrageous song, "Westboro Baptist Church" takes a stab at Westboro Baptist Church head Fred Phelps and their website, http://www.godhatesfags.com.

"Fuck Fred Phelps and the Westboro Baptist Church, fuck him long and hard, until his rectum hurts" and "Now if God hates fags, you asshole, I'm sure he hates you more" are just two of the song's controversial lines. The song also shouts out to others, including George W. Bush ("He prays to a God that hates his guts, then he sends young boys to die"). The 700 Club's Pat Robertston ("Took all my grandma's money, gave it to the 700 Club"). And faith healer Benny Henn ("He claims he's a faith healer, but he's just a charlatan").

That isn't the album's only heavy subject matter. "Rachel Corrie" is a dedication "to a true American hero, she took a stand and died for what she believed in", says Mike D. with sadness in his voice. "I wrote this song and sent it to her parents, to let them know what a courageous, powerful daughter they had. This is my tribute to her."

Corrie died in Palestine, when an U.S. made bulldozer ran her over, not only killing her, but also destroying the homes of her close friends.

In his memorial to her, Mike D. sings, "Stand up and be counted, throw your fists towards the sky. Folks walk around like they're already dead, long before they ever die. And on the ground where the savior walked, was it Palestine? Man and machine gonna silence this one voice, one martyr is gonna take to the sky. And all the flowers bloom in your name, and all the children sing out your name".

"Dust and Sun" is another live wire political song, examining war from both sides.

"If we don't start looking at the reasons why war occurs, if we don't get to the core of this evil, generation after generation will be paying with their blood," Mike D. says of "Dust and Sun". "The rich do need their wars; so few have so much and no soul or guts. But, what they don't realize is death makes us all equal."

In true I Can Lick Any Sonofabitch in the House tradition, Menace isn't all political, it also carries its fair share of regrets, disappointment, heartache, and sadness. Yet, even in the eye of the storm, Mike D. finds a way to unearth beauty, if only eerily beautiful reminders of why life is so precious.

"Pauline", a song Mike D. wrote for his grandmother, is a prime example of sadness and sorrow mixing together with beauty.

"I was with her and holding her at the exact moment she left this world," says Mike D. "It's amazing to see someone's spirit just up and fly. She was the one good constant in my life. They don't make people much better than this."

"Thousand To One" has a strong, personal message, standing tall as a reminder that sometimes your heart and soul is all you have, so don't give it away too easily.

"After a show in Seattle, a pretty girl gave me a note with her phone number and a list of things she wanted me to do to her," recalls Mike D. "Me, not being used to this sort of thing, I was flattered, but also freaked out. I wanted to tell her not to give what she's got to just anyone. It's important. I wish I'd have figured out sex wasn't just a handshake a long time ago. I guess I wrote this as a talk to myself that I needed."

One of the most personal songs on the album, "Fall Down", deals with re-occurring nightmares Mike D. still has, about one of his close friends, Jim, and his drug-related death.
"I found Jim dead after work one night. He was young, handsome and paid his bills. He was not a stereotypical junkie. I believed he had his habit under control. This song is about how that stuff can get to anybody".

Menace is a testament to the fact that nobody is safe, there is always someone lurking underneath your bed, and that the Boogie Man is real. Nightmares, demons, and government control oppress in their own ways, helping to keep those who have nothing poverty stricken, while making the rich richer. When The Clash said, "The money is in the hands of the people rich enough to buy it", they were never more right than right now.

Now is the time to stand up and be counted, to throw your fists towards the sky. Stop walking around like you're already dead. Menace is proof that Portland, Oregon's I Can Lick Any Sonofabitch in the House aren't.

Look for them to tour relentlessly behind this record, and come to a town near you soon.
Press shots for I Can Lick Any Sonofabitch in the House: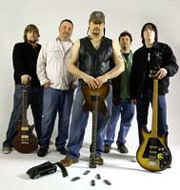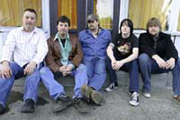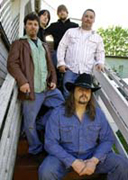 ALL PHOTOS BY: Jocelyn Dean for Jocelyn Dean Photography
Press shots of front man Mike Damron (also known as Michael Dean Damron):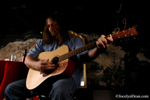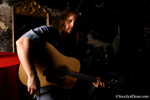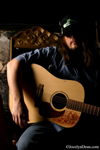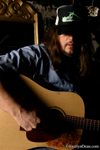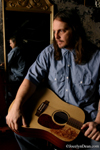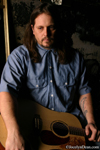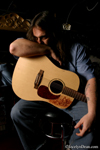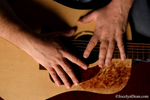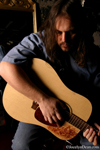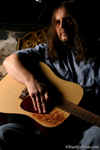 ALL PHOTOS BY: Jocelyn Dean for Jocelyn Dean Photography
I Can Lick any Sonofabitch in the House's Official Site