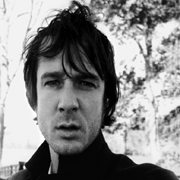 Tracks
1. All Those Dreams
2. Goodbye West Coast
3. Every Time In Blue
4. Just Like Movie Stars [mp3] / [lyrics]
5. Shadows
6. Watch The Weather Break
7. Let Me Pass
8. Thoughts From A Slow Train
9. After The Angels
10. Before You Go
11. Some Days

Matt Sharp
Matt Sharp

The Rentals front man and founding Weezer member, Matt Sharp releases a bold and astonishing debut solo album

Ten years after the landmark release of Weezer's debut The Blue Album, one of the most influential records of the nineties. And five years after the celebratory Seven More Minutes, the charismatic ex-Weezer bassist and front man of The Rentals, Matt Sharp, breaks his musical silence and delivers a sparse, hauntingly beautiful acoustic record.

Five years ago, at the height of his creative output, Sharp mysteriously left the music world. As with his disappearance, so is his return: surprising and courageous. The bold and sensuous sound of his debut, self-titled solo album, with its potent silences and eerie aural textures, is worlds apart from the bubbly synth-pop that gave birth to his early success.

The Rentals and Weezer it ain't.

What it is, is beautifully understated music that creates an almost spiritual feeling for the listener, a collection of deeply personal songs, backed only by sparse musical accompaniment, that invite an extreme intimacy and a real sense of honesty.

This is Sunday Morning Music.

Sharp's new found inspiration comes by way of Leipers Fork, Tennessee, a small country town seemingly untouched and lost in time. It is here, where Sharp retreated to work in the kind of studio isolation unheard of in popular music.

"I received a call from an old acquaintance. She heard that I'd been looking for a place that was far away from everyone, a place to think, a place to breathe, a place to write and record some very slow and sad music. It was a strange and dark time in my life." - M.S. '04

From its inception through its completion, Sharp was always accompanied by one of his three main collaborators, each leaving their indelible mark on the three distinct stages of the record's evolution.

Engineer and ambient artist, Josh Hager supplied the initial spark and courage to pack a van full of equipment as the two set off into the uncharted territory of the initial recordings. British producer, Andy Wilkinson set the foundation during the heart of the record's arrangements and early mixes. And finally, guitarist and longtime friend Greg Brown's unwavering loyalty provided the strength to carry the record through to its completion.

The choral tranquility of Sharp's debut allows for plenty of room for the lyrics to breathe and the words to fully echo in the mind. In the album's opener "All Those Dreams", a near motionless piano slowly gives way to a dim-lit instrumentation with Sharp's vocal asking: "Did all those dreams turn out the way they should be?". In "Watch The Weather Break", the album's centerpiece, an atmospheric soundscape surrounds a stream of questions that drift through the loose melodic structure. As the album nears its close, with a sense of resignation, Sharp exhales "For all your sadness searching what can you show?" ("Before You Go") Reoccurring themes of fear, regret, and a search for identity run throughout the album's fragile beauty. There is a rare thoughtfulness here that is its own reward.

In Music We Trust has come forward to stand up and champion this organic piece of music they know is heavily at odds with the commercial charts, where instant success is everything, feeling strongly that this collection of songs will be valued long after such superficial thrills are forgotten.

CUT TO: Wednesday, March 10th 2004.

Matt, alone onstage, ten years after the initial release of The Blue Album, alone with nothing but a few acoustic guitars during a solo concert at New York University. There is a maturity, and simple, understated tone that translates perfectly in the stripped down and intimate performance. What we find is a man standing outside of the shadow of his early pop success, someone who is comfortable in his own skin, someone who does not pretend to have found the answers, but has discovered a joy in finding his own voice.

This is Matt Sharp, in black and white and close-up.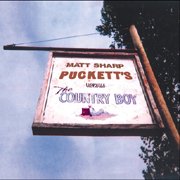 Tracks
1. Goodbye West Coast [mp3]
2. Some Come Running Through
3. Visions of Anna
4. Hey, What You Gonna Do?

Matt Sharp
Puckett's Versus the Country Boy

Matt Sharp returns to the music world with Puckett's Versus The Country Boy

After a four year absence, Matt Sharp returns to the music world as a solo artist, emerging with a sparse, acoustic four song E.P. titled Puckett's Versus The Country Boy. Hidden away in a small house deep in the countryside of Leipers Fork, Tennessee, Matt removed himself to do some thinking, writing and recording.

The sound of his solo work is a big departure from what he is most well known for. The enigmatic front man for The Rentals (Maverick Records) released the seminal lo-fi new wave album Return of The Rentals in 1995, which featured the modern rock radio smash, "Friends Of P.", following up the album with the critically acclaimed cult-classic Seven More Minutes in 1999. The sophomore effort was a glamorous affair of epic ballads and hedonistic celebrations, written and recorded in Barcelona and London. These were collaborations with some of Europe's most well known artists, such as Damon Albarn (Blur), Tim Wheeler (Ash), and countless others from Brit pop royalty. The record was completed in a whirlwind of travel and emotion, bouncing from continent to continent in the haze of a passionate scene.

Gone are the moog synthesizers, female harmonies and coke-bottle glasses.

Leaving the pop life behind, Matt found himself hold up in a small country house, far away from outside influences, without television or radio. The wide open fields of the Tennessee landscape served as back drop for songs like "Goodbye West Coast", in which the author sings of returning home to visit his best friend's grave. The spiritual tone of lap steel, piano, and acoustic guitar echo around the private words that read like a diary. The lyrics, instead of presuming to know all the answers, start to ask questions that get a dialog rolling.

Beyond that, Matt is probably best remembered as the charismatic founding member of Weezer. Living through the pandemonium and geek sheek phenomena that was the Blue Album (over 4 million copies sold in the U.S. alone) and one of the most influential and landmark records of the last decade, 1997's Pinkerton (rated number 16 by readers of Rolling Stone in a list of the greatest rock-n-roll records of all time). After forming in 1992 Matt and the group quietly parted ways sometime in 1998.

Central to his musical life now are his two main collaborators, Greg Brown and ambient artist Josh Hager. Hager sets the tone of the new material with ghostly sounds that lay under the record's sparse arrangements, giving the music a contemplative and almost haunting mood. Brown's guitar brings a rustic melodic sense with an authentic American voice. The music unfolds like a late night conversation with a long lost friend.

This year Matt sets out on a solo acoustic tour of American colleges and universities. Breaking down the barriers, at each performance, students and fans are encouraged to bring a pillow, climb onstage and sit as close as possible with Matt and a few of his acoustic guitars. An engaging storyteller, Matt often shares humorous anecdotes from his early musical life to his most recent time spent in the quiet countryside. Christmas lights, nostalgic melodies and giant images from Matt's published photography transform cold lecture halls into dreamlike landscapes. Each evening, the mood of the set drifts between a somber and reflective tone to an altogether more joyous and lighthearted affair.



Official Matt Sharp website: www.mattsharp.net.

Check out a great interview with Matt Sharp (and collaborators Goldenboy) at: http://www.music-scan.de/infos/stories/details.php?id=394.

Matt Sharp - self-titled: Looking for this record on vinyl? You can order this record on vinyl (import, from Europe) at http://www.glitterhouse.com/index.asp?lang=e&mode=artinfo&submode=&id=36828&searchfor=&searchmode=0&pos=&wk=&rnd=0%2C6631586&s1=&s2=&incs=false. It inclues a different track order AND an unreleased song!