Water Tower
Fly Around (Dutch Records)
By: Alex Steininger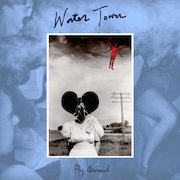 Fly Around is the debut, full-length album from Los, Angeles, California's Water Tower, the brainchild of frontman Kenny Feinstein. A ten-track collection of indie, folk, bluegrass, psychedelic, and punk, the album is produced by The Germs' drummer Don Bolles, who also drums on the recordings.

Originally based in Portland, Oregon, following the recording of Fly Around, which was tracked at Portland's Deer Lodge Studios, Feinstein took it to Los Angeles to get the record mixed. Then he decided to stay, moving there permanently (eventually assembling the band in L.A.).

Featuring guests such as Black Flag's second vocalist, Ron Reyes, and Old Crow Medicine Show's Willie Watson, Fly Around opens with "Fromage," a high-octane bluegrass number rooted in punk mentality.

The album's title track features lead vocals from Watson, as the band delivers an old-timey, indie-bluegrass treat; highly danceable, energetic, and chalk-full of melody.

Slowing it down a bit, "Bobcats" finds the band delving into their indie-folk sound, soaking up a little psychedelia on the way. Whereas "Come Down Easy" offers up a mid-tempo, psychedelic-laced folk-rocker.

"Mile High Club" is the band's experimental, psychedelic instrumental, which feeds into the classic rock-tingled folk-rock of "Classic Misdirection."

The highlight of the album is "It's Wrong," best described as a pop-bluegrass ditty; danceable, hook-laden, and full of the energy you come to expect from Water Tower, the song is a great representation of all Feinstein's influences melding into one memorable song.

Ending with "Anthem," which features Reyes on lead vocals, punk-bluegrass explodes out of your speakers, equally getting you up to mosh and dance.

Fly Around is a musical journey through various genres, excelling at never losing focus or sight on Water Tower's unique take on traditional music, while still being their own every step of the way. If you're a fan of indie-folk and bluegrass, and like a band that takes chances, here is an album that will have you on the edge of your seat throughout all ten tracks.