Eddie Spaghetti
Old No. 2 (Mid-Fi Recordings)
By: Alex Steininger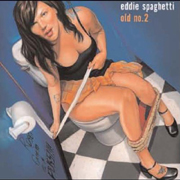 Whereas Supersuckers' front man Eddie Spaghetti's debut solo album, The Sauce, contained two originals (including an acoustic version of The 'Suckers' "Sleepy Vampire"). His second solo record, Old No. 2, contains four originals - "All Along", "Some People Say", "I Don't Wanna Know" and "Here We Go".

Arguably the four tracks he's strongest on, Spaghetti seems more comfortable this time around. He has no problem writing country songs with the 'Suckers behind him, but on The Sauce his solo version of "Sleepy Vampire" paled in comparison to The 'Suckers rocked-out version, and his other original, "Killer Weed", was a camp-y sing-along that was more joke than serious.

This time he finally rides with the same swagger and confidence he exudes in the 'Suckers.

"I Don't Wanna Know" is a solid, hooky mid-tempo country number, and "All Along" retains Spaghetti's knack for making you want to sing along while getting your dance on, this time with his country flare sounding fresh and lively. And on "Some People Say", Spaghetti trades in the beer-soaked party anthems for heart-on-the-sleeve tenderness, delivering a poignant, somber folk-rock song.

Spaghetti's highest moment is the opening track, a cover of Dylan's "Tonight I'll Be Staying Here with You". He hits the nail on the head with this one, delivering a slow, steaming country version that includes Jordan Shapiro, a member of Dylan's touring band, on guitar (Shapiro plays throughout most of the record).

The album ends with "Sick as a Dog", sang by Spaghetti's son, Quattro, ending the album on a hilarious note.

Also including covers by The Coasters, AC/DC, Tom Waits, and Nick Lowe, Spaghetti's cover choices are impeccable. And though sometimes he makes you crave nothing more than the original, he pours his heart out, and finally delivers originals on a solo album that will make you proud you're an Eddie Spaghetti fan.

I'll give it a B.