Broken Social Scene
Broken Social Scene (Arts & Crafts)
By: Alex Steininger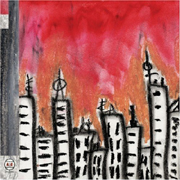 On their self-titled, third full-length, Canada's indie-orchestra Broken Social Scene (for the self-titled record the band features 17 members and four guests), they stepped it up a notch. Expanding on the runaway hit album You Forgot It In People, and delivering an even richer, more complex, and well-thought out body of songs.

Opening "Our Faces Split The Coast In Half", Broken Social Scene sets the mood with an airy instrumental complete with horns, a wild rhythm section, and an infectious dance beat buried beneath. Incorporating indie-rock with experimental jazz, the band creates a song, and a sound, uniquely their own, something that breathes fresh air into indie rock.

On "Finish Your Collapse And Stay For Breakfast" the band creates a minute and a half ditty that puts to music the thought of a late night, under the stars, and no wind, as you sit there, relaxing, pondering life's mysteries.

"Major Label Debut" proceeds "Finish Your Collapse and Stay For Breakfast". A light, sparkling mixture of folk, indie-rock, and percussive rhythms turn this dreamy, gentle song into a meditative, melodic glow of peace and beauty.

Meanwhile, "Fire Eye'd Boy" shows that Broken Social Scene isn't afraid to rock out, delivering a revved up (for them) four-minutes of layered indie-rock.

"Swimmers" is light and poppy, somewhat danceable, and quite easy to indulge in, its laid-back, late-night pop styling melding well with the post-punk bed that seems to be buried deep in the song.

Then there is "Handjob for the Holidays", a textural, layered pop song that has something going on with every layer, somehow combining them all into a delicate, intricate song that exudes beauty.

Album closer "It's All Gonna Break" ends with an epic rock-meets-soul song, nearly ten minutes in length, that lets you know Broken Social Scene has just begun.

Broken Social Scene might have been hard pressed to top You Forgot It In People but somehow they have managed to do so. Not only upping the bar, but adding to their orchestra and instrumentation, ensuring you won't get bored with Broken Social Scene any time soon. I'll give it an A+.

NOTE: The first pressing of this record comes with a bonus EP, To Be You and Me, featuring seven additional cuts. Another must have!