DVD: The Brady Bunch
The Complete Fourth Season (Paramount Home Video)
By: Alex Steininger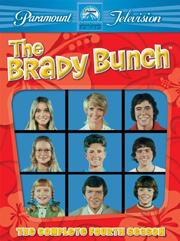 This four-disc collection showcases some of the best writing in the series. The Fourth Season of the Brady Bunch began to really take chances, uprooting the family from their home (the main setting for the series) to a trip to the Grand Canyon and a family vacation in Hawaii.

One of my favorite episodes finds the Brady kids singing on a local TV show. As "The Silver Platters", they're trying to win a contest to pay for a silver platter that they had engraved ? and then couldn?t cover the bill (poor Jan, she didn?t realize it was 85 cents per letter!) ? for their parents? wedding anniversary.

Of course, the show is a classic, a part of pop culture, and some of the best scenes and episodes come from this season. Ah, and the season finale, Greg and Marcia battling for the attic, so they can move out of the room with their siblings.

Ah, the memories! Good memories here indeed. Thus, pick this puppy up. It?s groovy, to the max. I?ll give it a B+.