DVD: Beavis & Butt-Head
The Mike Judge Collection Volume 1 (Paramount Home Video)
By: Alex Steininger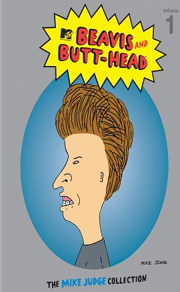 Beavis & Butt-Head. For those that were in high school during its run ? from 1993-1997 ? it was the staple of pop culture, a conversation piece, and something over quoted both in and out of the classroom.

Two foul-mouthed, rude, and quite crude hard-rock loving teens ? Beavis with his Metallica shirt and Butt-Head with his AC/DC shirt ? sought out adventure and always found it at every turn. And no matter how mundane or insane, they made it classic humor with their stupidity and, oddly enough, charm.

Now, Paramount and MTV Home Video are bringing back the memories, and exposing a whole new generation to the Beavis & Butt-Head Experience, this is 40-episode, three disc collection of creator Mike Judge?s (King of the Hill, Office Space) favorites, volume 1.

If forty of Judge?s favorite Beavis & Butt-Head episodes weren?t enough, the DVD collection also includes eleven music videos (Pantera and Wilco, among them) with Beavis & Butt-Head?s classic commentary. As well as their Video Music Awards appearances, a Thanksgiving special with MTV VJ Kurt Loder, and a mini-feature, "Taint of Greatness: The Journey of Beavis & Butt-Head, Part 1".

Ah, and what crude humor show wouldn?t be complete without uncut episodes? Yes, the stuff that was censored for viewing on MTV is now uncensored on the DVD, along with fourteen episodes that are previously unreleased on DVD.

Judge created a show that was witty, entertaining, and mindless ? all in a twenty-three minute (excluding commercials) time span and this DVD collection highlights the genius of this combination quite well. Relive your obsession, wax nostalgic, or experience for the first time, because this DVD is a must for fans of comedy and animation ? and one you?ll be watching drunk with your friends a lot. I?ll give it an A-.