Grech
Unholy (Island Records)
By: James Chadwick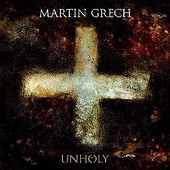 Martin Grech was doomed ever since he agreed to have his song Open Heart Zoo on an international Lexus car advert. Doomed to be refered to as "of ad fame" and have the word "haunting" in every single review of his music printed. However, Grech fans will know that there is so much more to the 22 year old from Aylesbury than just a pretty voice that is vaguely reminiscant of Thom Yorke. Martin Grech (prounounced Greck) has recently finished work on his follow up to 2002's Open Heart Zoo, Unholy.

Grech's second album is totally void of anything that sounds like Open Heart Zoo, from it's scortching opener, "Guiltless" which has an orchestral section which would do Krystyoff Penderecki proud, to the understated sketch of it's bonus track, "Sun", Unholy has not one piano lead song, or a song with lead falsetto vocals, or infact a song which has been used on an advert. Unholy is an obvious attempt to shed the Lexus albatross, still, it doesn't dissapoint. Grech proves that he is still capable of creating a bafflingly broad record, full of light and dark, loud and quiet, one moment Grech is saying that he "lives in a fantasy where he is dead and worshipped", the next he is telling someone that they are his "Sun", that he is nothing in comparison. The album's stand out track is "Holy Father Inferior" , a nine minute, twenty-four second mini rock opus which sounds like Led Zeppelin and Jeff Buckley playing out the apocalypse.

The tone of Unholy is totally different to that of Open Heart Zoo, gone are the moments which could be mistaken for Aqualung or Chris Martin, instead are soothing orchestral outings or Cobain-esque acoustic guitar lines, in parts, Unholy sounds more like a film score than a rock album. One track, "Erosion and Regeneration" sounds like Grech's own version of "Fitter Happier", recited over the Donnie Darko theme, much as this sounds like a bad thing, it really works, Grech creates a soundscape so vast, it seems as if the listener could get lost in it. It's songs like "I am Chromosome", which was released as a free online single last year which pulls Unholy back to earth, the track echoes his live performances, unforgivingly heavy, full of manic vocals and heavy distortion.

It also makes use of studio trickery, thanks to Andy Ross, samples and effects bring out a different side to the live tracks. Only Grech could follow a surreal heavy metal thrash like "I Am Chromosome" with a track like "An End", a Smashing Pumkins-esque understated acoustic sketch. This record will leave most listeners totally baffled, but the lucky ones who, "get it" will be treated to an extremely diverse record which easily matches Open Heart Zoo, it's sonorous tone and changing emotion grabs the listener and challenges them.

Grech is the perfect antidote Pop Idol culture, an artist who's records reward repeated listening and who isn't afraid to try new things. Cynics may say that the vocal ticks of Grech, the breathing in sharply before every line and the delicate falsetto have been done all too many times before, by Radiohead and Muse, still what they are forgetting is that technically, Grech is head and shoulders above the rest, his range is that of Buckley and the bredth of vocal styles he can achieve is astonishing.

Unholy is a more grown up, edgy album than 2002's Open Heart Zoo, there is just as much depth and range, but the tracks somehow manage to flow into each other, peaking with heavy rock stompers, then pulling back with lilting, mellow tracks like, "Lint" where Grech's voice is reduced almost to a whisper.

Needless to say, with Unholy, Grech will no longer be seen as just "that Lexus boy".

I give Unholy an A.