INTERVIEW: Cake's John McCrea
70's soft rock outfit Bread gets tribute album (Bad Man Recording Co.)
By: Alex Steininger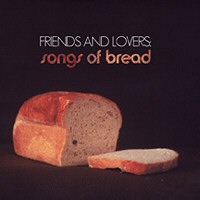 "I think Bread was one of those bands that got overlooked at the time by people that were into music," says Cake front man John McCrea, discussing Bad Man Recording Company's Friends and Lovers: Songs of Bread, a tribute to the 70s soft rock band Bread. The compilation features Cake, as well as Josh Rouse, Call and Response, Jon Auer (of The Posies), Ken Stringfellow (also of The Posies), Holy Sons, and The Moore Brothers, among others.

"But the songs are beautiful and you can't argue the geometry of the music," continues McCrea, who is doing interviews to support the tribute album. "I think a lot of the rejection of Bread had a lot to do with boys and uncertainty with their sexuality.

"At the time, high school boys had to listen to Kiss, the hard rock, for machismo. But as you got older, you realized you can listen to soft rock, Cuban music, anything you want and it doesn't question your sexuality. But at the time, the high school boys had to listen to hard rock and not Bread because they were unsure of their sexuality."

Bread, one of the most popular pop groups in the early '70s, spawned a string of melodic, mellow rock singles, all composed by keyboardist David Gates, a session musician and producer turned songwriter. Meeting guitarist/vocalist James Griffin in 1968, who originally hired Gates to produce a solo album for him, the two began working together and, after meeting guitarist/vocalist Robb Royer, the trio formed Bread. Soon signing with Elektra Records, the trio became one of the label's first pop groups, thus making them a high priority.

Releasing their self-titled debut album in late 1968, the label failed to produce any singles. But it was just a matter of time for the band.

It was the group's second album, "On The Waters", that spawned the band's first hits -- "Make It With You" and "Don't Matter To Me". With success, the band embarked on a tour, adding a permanent drummer, Mike Botts, to the line-up.

The band continued to produce records that contained hits, but as the band got more successful, tensions mounted and Griffin, who claimed that Gates and him had agreed when the band started to share the singles equally, was frustrated that all the singles were written by Gates.

The band broke up in 1973 after releasing The Guitar Man (spawning the self-titled hit, which Cake covers on Friends and Lovers), to regroup in 1976 and release their last album, Lost Without Your Love. But tensions were still high and the band quickly dissolved.

Here we are nearly twenty years later, though. Older. Wiser. In to different things. Respectable indie-pop label Bad Man Recording Company, out of San Francisco, decided to do a tribute band to Cake, a band they deemed quite underrated.

Cake's guitarist, Xan McCurdy, a friend of Bad Man owner Magierek, got a call asking if Cake would want to be a part of the tribute to Bread. After discussing it, the band said yes.

They then set out to choose a song to cover -- and then record it.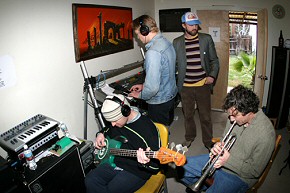 "Some of the other songs we liked were already taken when we came on board," McCrea says of why they chose to "The Guitar Man". "The fact we did that song was a coincidence that I didn't even remember. When we were working on it I remembered going to the public library and listening to it when I was ten. And then I didn't get it, but now I'm a touring musician and I realize how depressing it is."
The band kept what they liked about the song, the chord progressions and the melodies. But they did decide to change it up a bit, put their own stamp on it.
"We did change the rhythm a bit," McCrea tells me. "I didn't want to re-invent the wheel on it, because I like the song. But we did want to make it our own".
McCrea tells me he really likes the compilation and that all the bands turned in really passionate versions of their favorite Bread songs. He also tells me he's proud that someone would take the initiative to do a Bread tribute record, because he agrees the band is quite underrated, which is one of the reasons they agreed to do the tribute record.
However, even after they agreed to do it, it almost didn't happen.
Their label, Columbia Records, wouldn't let the band do it. However, after going back and forth on the idea, the label finally caved and allowed the band to appear on Friends and Lovers.
"Initially, it was a hassle to get our label to agree to let us do it, but we eventually got permission," admits McCrea. "We're no longer on Columbia because of reasons like that. We're going to release our next record on our own."
Cake plans to self-release their next record now, with a release date slated for early 2006.
"We may release stuff on our website, like a few songs or an EP. Now that we're free we can do whatever we want," says an excited McCrea. "It happened a few weeks ago. We rejected our label's request for an extension on our option to see if they wanted to put out another record or not. We were like, 'sorry guys, no'. We are frightened, but happy about it, too."