INTERVIEW: Beaten Back To Pure
Down and dirty death rock (Beaten Back To Pure)
By: Mike SOS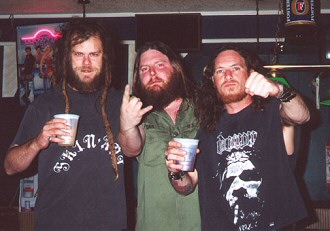 Down and dirty death rock, Southern fried style, is the dish best served by the bruising Virginia outfit known as Beaten Back to Pure. When speaking to lead throat Ben Hogg via email, some insight was given on the band's unique name, the comparisons drawn to the band and their inaccuracies, and the pleasure and pain that the band went through to release THE BURNING SOUTH. Crack a beer open and allow Mr. Hogg to lay it down for y'all.

MIKE SOS: Where does the name come from?
BEN: Just an innocent conversation dealing with religious zealots, more specifically I mentioned the movie THE PEOPLE UNDER THE STAIRS where the crazy sister/brother/husband/wife scalded the girl child for fucking up. I guess she was "scalded back to pure", but that's where it came from.

MIKE SOS: Whom would you guys say you sound like? What comparisons do you think are off?
BEN: We sound like no one. Every goddamn comparison I read, I believe is off. I always assure myself that the reviewer only half assed listened and tagged us with the Eyehategod, Alabama Thunderpussy paintbrush out of ignorance of those bands or lack of understanding whatever he just heard of ours. I've seen some outlandish shit. Man is the Bastard. Today is the Day. Bloodlet. Cool enough bands and all, we sound nothing like them. We get the Black Label/COC/Down comparisons too. Maybe if you poured battery acid over top of these bands then they (the reviewer) might be closing in on something. I guess I see the necessity of comparisons, just for reference points, but it's infuriating and often misleading at the same time.

MIKE SOS: How did growing up in Virginia affect your music?
BEN: I grew up in the mountains of Western Carolina. But, I don't write any of the music, so I guess it doesn't apply. Our main songwriter (Vince Burke, guitar) grew up here, but I'm unsure how that would've impacted. I grew up hearing a lot of bluegrass. Again though, all I write are the words.

MIKE SOS: How do you feel to be mentioned as Southern rock?
BEN: Not bad. Southern metal would be more accurate. If that tag wasn't something we weren't into, we probably wouldn't have used Confederate flags, or parts thereof on all three of our albums thus far. I like a lot of classic southern rock. I can live with that.

MIKE SOS: Describe the writing process you went through for THE BURNING SOUTH.
BEN: It took longer than usual. There ain't a real formula or anything. Vince will have a riff, him and Chuck (drummer) will work it out together, then they bring it to practice and everybody adds their touches. Finally I write words over it. We'd write a song here and there, we saw we had 8 or 9 new ones and figured it was time to put them out.

MIKE SOS: What's your favorite song on the album? Toughest to record?
BEN: Favorite would be "One Shovel and A Place to Die". Not sure why. I like "Smothered in Sundress" a lot too. I don't dislike any of them. "Pillars of Tomorrow..." is high up too. I don't recall any one tune being a real motherfucker. Maybe "Hell Goes Thru Hanging Dog"; seemed like that one was still being fucked with till the last moment. That is definitely the toughest of the lot.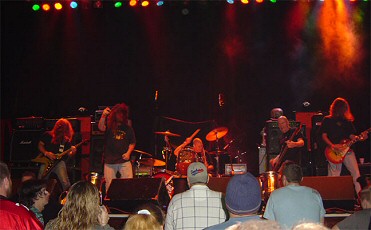 MIKE SOS: What are your feelings on the state of heavy music today?
BEN: I don't really know. Seems all right to me. The shit on the FM dial is bullshit, but that's always the case. Good new albums coming out all the time. Decent show turnouts. Things could be worse, that's for certain. I dwell in the underground, so I really don't know what's going on. I don't think I'm missing anything.
MIKE SOS: Who are some of your favorite bands? Musical influences? Guilty pleasures?
BEN: Hmmm...favorite bands....I really dig Mastodon. Weedeater. Cult of Luna. Murder Squad. Hidden Hand. Pig Destroyer. Those are the ones I'm currently spinning a lot. Influences, tough to say what seeped in over the years. Guilty pleasures would be hardcore stuff like Blood For Blood. Or something mainstream like The White Stripes. I think they are killer.
MIKE SOS: When I'm not in BBTB, I'm...?
BEN: A locksmith. That's the day gig. It's all right for work, which sucks. Vince runs a sod laying crew, Slam is a painter, Richie does construction and Chuck repairs machinery engines. The big ones.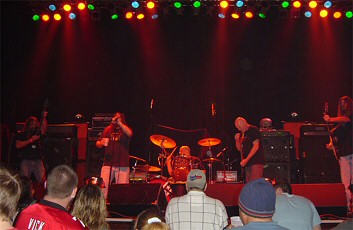 MIKE SOS: What advice would you give to aspiring artists?
BEN: Give up now. Or perhaps focus big picture and don't worry so much that locally you don't draw, or the rat race of playing some shit hole both nights of every weekend. That's tiresome and dumb.
MIKE SOS: Where's your favorite place to play? Best gig thus far?
BEN: Youngstown OH. Great bar/pa system, monster sound. Real cool. We've had cool shows there, and in Little Rock and Richmond, and Atlanta and Raliegh. I like most everywhere.
MIKE SOS: What's up for the next six months for BBTB?
BEN: Good question. We're gonna be playing as many shows as possible. Right now I'm trying to cobble together a mini tour for the winter. Sucks not having a booking agent. So far, Atlanta, New Orleans, and New York City are in line for a dose with more to come. We're supposed to record and do a split with the band Cable. I haven't heard from them dudes in a month, hopefully it's still "on". That's about it I reckon.