Reno 911!
The Complete Second Season Uncensored! (Comedy Central)
By: Alex Steininger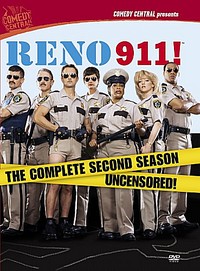 When Reno 911 first hit the television, I loved it. A show mocking Cops, the reality-based television show, it was done with humor, style, and a great cast.

However, after the first season, I stopped watching the show. I don't know why. I just did. I got busy, didn't remember when the show was on television, and thought the show was cancelled.

Then I got the Season Two DVD and started watching the show again. The same things I liked about Season One- the slapstick comedy, the funny-because-its-true slant on Cops, and the depth of the characters - was still here.

I was once again addicted to the show, and happy to hear that Season Three was going to air on Comedy Central soon (the season opener for Season Three aired about a few weeks ago).

Including over an hour and a half of alternative/deleted scenes, cast commentary, and live footage from HBO's 2004 U.S. Comedy Arts Festival, the DVD finds the deputies Reno making a mockery of the police - and you laughing every minute of it. I'll give it an A-.