Music Video Distributors)
By: Alex Steininger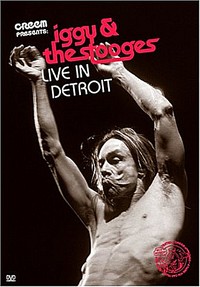 I never got to see any of The Stooges reunion dates. They didn't make a Portland, Oregon stop. This bummed me out, for I would have liked to see it. Especially with Mike Watt playing with them!

Since I didn't, though, Creem and Music Video Distributors have gotten together to release the infamous Detroit show that kicked off the reunion tour.

People flocked from all over the world to see this gig, and after witnessing it myself, there is no question why. High energy, high octane, this is rock 'n' roll, decades after the songs were written and conceived, years detracting from the youthfulness that once burned inside the players.

However, somehow, like wine, age has only made these timeless classics that much better on stage and with Watt in tow, the songs are re-visited, re-lived and, surprisingly enough, Iggy Pop hasn't his stage presence.

Including bonus material such as Mike Watt reading his journal, and a legendary Stooges NY in-store, in addition to the well-shot, nicely presented Detroit show, here is a token for all those that missed the gig. Granted, it's not the same watching it on DVD, but the camera workers did a great job of capturing the essence of the show and the editing team took that footage and bring the show as near-to-life as they can on DVD. Thank you. I'll give it an A-.