Ryan Adams & The Cardinals
Cold Roses (Lost Highway Records)
By: Alex Steininger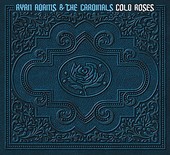 You lost me there, a bit, Ryan Adams! After Rock 'n' Roll and Love Is Hell Part I & 2, it seemed to me that you were about writing songs and releasing them, quality control or not. You just wanted to get as much product out there as you could - carelessly alienating your fan base as you put out record after record to receive a paycheck.

So, it was with trepidation I listened to Cold Roses, your latest, a 2-disc collection of 18 songs that showcase your abilities as a roots songwriter.

After a guitar rock record and some polished singer-songwriter pop stuff, Cold Roses wasn't exactly calling my name. But, being a fan of yours, and thinking that, despite your deluge of songs released, you were one of the most gifted songwriters out there today. Heck, most great songwriters like yourself probably write just as many songs, they just have quality control and don't release a good majority of them, I figured I should at least give you one more chance.

As I put Cold Roses in, I hoped you wouldn't let me down. That you had got it back, so to speak, as a songwriter and were ready to dominate once again.

Thankfully, you didn't let me down.

Cold Roses isn't Heartbreaker. But, it is the closest thing you've done to Heartbreaker since you went solo.

Cold Roses combines your love of roots-rock, folk, Americana, and country, delivering a record that includes different variations on your favorite music styles. Including dirty rock (the title track), folk-rock ("Dance All Night"), rustic pop ("Life Is Beautiful"), country-rock ("Let It Ride"), tender pop with roots influences ("Magnolia Mountain), and everything in between.

I thought you lost it, but I was the one who was lost. Cold Roses is as delicate, beautiful, and gritty as you've ever been in the past. Your pop melodies shine through on even the tender-est of songs, all the while your most rocking numbers still retain your pop sensibilities. Whether you're paying homage to country, folk, or rock, you do it right here. I'll give this an A.