The Groups of Wrath
The Groups of Wrath (TVT Records)
By: Nick Mlatchkov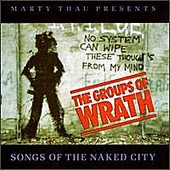 This is a brilliant compilation cleverly titled The Groups of Wrath with outstanding production by Marty Thau, the early Fleshtones producer. What'd been Ahmed Ertegun/Jerry Wexler for the R'n'B in the 50's, Thau was for the punk generation. It features "Stranded in the Jungle/Human Being" by the NY Dolls and "Shadow Line" with Zaremba blowing his harp at full force and "Fascination" by the Fleshtones who are the Who of the punk generation. It's probably the only one on a major label including both bands.

There's also "ChereeI Remember" by the best psychedelic-punk band Suicide, the closest sounding to my local Toronto, Ontario favourites Trans Love Airways, Brian Setzer's first band Bloodless Pharaohs, which Bloodless Pharaoh is heavily influenced by Joy Division and the best I've heard from Setzer. More gems are R. Hell and the Voidoids' enough exposing "Downtown At Dawn" and the best Blondie 1976 single "X Offender" [rocking about things that don't happen anymore] and "In the Sun", produced by R. Gottehrer/C. Leon where D. Harry's called in the liner notes the pre-Madonna Madonna. Also a reference to a Cockney Rebel album!

It surely feels like a handy hour of Little Steven's radio show, the UG.