Girls Under Glass
Zyklus (Metropolis Records)
By: Vinnie Apicella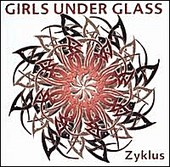 One of the elite of the electronic music community for nearly 20 years, Girls Under Glass continues to impress on their 10th album, a 12 track masterpiece that flawlessly mixes goth, industrial, electronic, and metallic elements into a complete work that captures the band at their creative peak.

Vocalist "Zaphor" comes alive in a flood rush of emotions that combine darkness, desperation, longing, and hope - reference tracks 3 and 4, the KMFDM-styled "Ohne Dich" with its rough-edged gruffness and German lyrics to the danceable Depeche-like "Truly Living" or the spiritually uplifting flutter of "Deliverance"; the guitar rock and melody of "Love Is In My World" to the intensifying "Feuerengel."

"Wonderworld" catapults the Girls back to the new wave days with a beat-driven synth opening while "In The Darkness" and "I'm Alive" are pure drama delivered in whispered tones, sensual atmospherics and feminine wiles. GUG have spread continued to spread their wings from album to album, song to song, unafraid of explore, attack, or embrace the unknown and it shows in their output that's both challenging and close to home. "Zyklus" is further testament to their depth and durability, conquering.