SHOW REVIEW: Paul Westerberg and His Only Friends
Roseland Theater - February 19, 2005 (Portland, Oregon)
By: Alex Steininger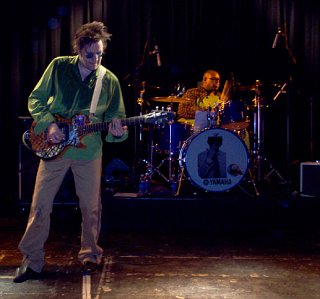 I will admit it. I was beginning to have my doubts. All my friends and acquaintances, who I knew were into The Replacements, they were writing Paul Westerberg off as a has-been, an old man past his prime. But I didn't buy it, at least not for awhile. I believed in Paul, I believed in his songwriting, and I believed the music was still in him the passion, the hunger, and the unabashed attitude which fueled his earlier songs and the beginning of his solo career.

But, to me, it seems that after leaving Reprise Records and signing with Captiol Records in 1998, and from there on out, unabashed turned into self-consciousness, passion turned into bitterness, and the hunger was long gone, resulting in a man, a songwriting genius, treading water. Where he once didn't care about what people thought of his music or his lifestyle, now he seemed to not care about fans or those that had supported him and brought him to a level of undeniable notoriety and underground cult hero status. Instead, he seemed to only care about showing the world that he had moved on from the legend that made him, and was going to take every attempt he could to shove this in people's faces.

First it was the Capitol Records release of Suicaine Gratifcation, which seemed hell bent on proving that his mindset and maturity had helped him all but forget The Replacements, through the Vagrant releases of Stereo (2002), and Come Feel Me Tremble (2003). Even Mono, the 2002 release of Westerberg's side project, Grandpaboy, provided to be lackluster.

It wasn't until 2003's Dead Man Shake (Anti Records) that Westerberg seemed to be having fun again in music. Playing raunchy, gritty blues-rock under his alter ego Grandpaboy, the spark seemed to be somewhat ignited. And then came 2004's Folker on Vagrant, and things started to look up for Westerberg at least he seemed to be somewhat enjoying himself again.

But, on Saturday, February 19, 2005, Westerberg and His Only Friends (guitarist Kevin Bowe, bassist Jim Boquist, and drummer Michael Bland) came roaring through Portland, restoring faith in Westerberg and his musical legacy.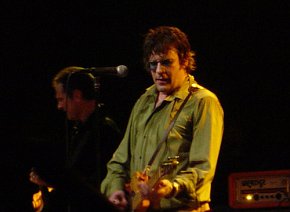 The first quarter of the show, with Westerberg opting to open the show with a few latter-day 'Mats songs ("Merry Go Round" and "Someone Take The Wheel"), seemed to kill the buzz somewhat, sounding as if Westerberg and the gang were phoning in the performance, playing Mats songs to appease a restless audience.
But in true Westerberg fashion, just when it seemed that the show was going to be more obligation than energy, the tides quickly turned as the band came together, Westerberg on fire as energy started to glow from him and his guitar, and his voice sounded as if he himself was having a good time, jamming with friends, and remembering why he got into music in the first place.
From here on out the show was unstoppable, Westerberg and His Only Friends pouring through Mats staples ("I Will Dare", "Valentine", "Little Mascara", "Kiss Me on the Bus", and "Can't Hardly Wait") through solo material ("Lookin' Up In Heaven", "First Glimmer", "Knockin' On Mine", and "Final Hurrah"), and even Grandpaboy stuff ("AAA" and "High Time").
Westerberg even whipped out the 12-string guitar to treat fans to one of the most requested songs of the night, "Skyway", as well as "Born for Me", while giving his band time to rest. After a few acoustic numbers, the band came in, Westerberg still possessing his acoustic 12 string, as they played "Lookin' Up In Heaven" and "Love Untold", among a few others.
They then went back in to rock 'n' roll mode before exiting the stage amongst loud cheers.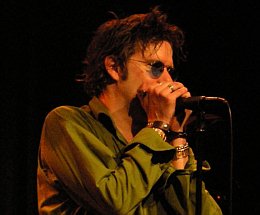 Coming back up for an encore, Westerberg treated everyone to "Here Comes The Regular", before the band re-joined him, treating the audience to more Replacements songs as well as his solo stuff.
Back was the hunger, the passion, and the unabashed attitude. It seemed once again Westerberg didn't care what people thought, he just wanted to have a good time, jam with friends, and smile and if that got the crowd going, so be it.
Playing over two hours, it indeed did get the crowd going, as the last three-fourths of the show proved to everyone in attendance why they were there in the first place. St. Paul Westerberg was back again, rocking and rolling, having the time of his life, and giving the fans the same experience.
Ah, February 19, 2005 will live in infamy, at least for me. It was the day Westerberg erased any lingering doubts in my mind and restored all of my faith in him. He's as good as he ever was. Or shall I say, as great as he ever was, and on that night treated everyone to not only great songwriting, but a great show as well.
Thanks Paul. Thank you very much.