Simon & Garfunkel
Old Friends: Live In Concert (Warner Bros. Records)
By: Alex Steininger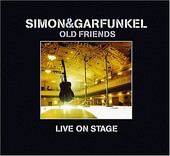 Legendary songwriting duo Paul Simon and Arthur Garfunkel toured together in 2003, their first national tour in more than two decades, playing all their hits from their rise to fame in the sixties. Dubbed the Old Friends tour, Old Friends: Live In Concert is a two-disc set that finds the folk-rock sensations delivering all your favorites - "I Am A Rock", "Hey, Schoolgirl", "Scarborough Fair", "Mrs. Robinson", and "Bridge Over Troubled Water", to name a few. All to sell out crowds in over 30 markets.

The harmonies are as spot-on as ever. Age has not slowed the duo down, as is apparent throughout the fresh, crisp delivery of these songs, which sound as valid and alive today as they did three decades ago when they were written and first heard.

Capturing a magical tour, these songs, and their performance, brings forth many memories for both the audience and the musicians. Backed by a sturdy, more-than-capable band, the classics are re-visited, updated, and brought back to life (as if they ever died) on this live recording that doesn't disappoint. I'll give it a B+.