Saint Etienne
Travel Edition 1990-2005 (Sub Pop Records)
By: Alex Steininger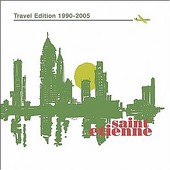 Formed by two former music journalists, Bob Stanley and Pete Wiggs, Saint Etienne was a conceptual band from out of the gates, with a goal of fusing British pop sounds of '60s London with dance club rhythms. Succeeding in that goal, with the help of vocalist Sarah Cracknell, they more than carried out their vision, helping to create indie-dance as a viable genre with the U.K.

Sub Pop was lucky enough to put out a string of their albums in the U.S. - Good Humor (1998), Places to Visit (1999), Sound of Water (2000), and Interlude (2001). Now, Sub Pop is releasing Travel Edition 1990-2005, the band's first best-of compilation, including tracks from the band's fifteen year history and "Primrose Hill" and "Fascination", two previously unreleased tracks.

Sounding fresh, innovative, and complete, Travel Edition is a great starting point for the band, as well as a must-have for any fans of the band, even those that have all the material. Saint Etienne's brand of danceable, club-pop is irresistible, fusing acid house and four on the floor club music with French-pop, an inventive combo that makes an even more inventive sound.

For those unfamiliar with the band, Travel Edition is even a bigger score, as Cracknell's voice carries out perfect pop harmony, with Wiggs and Stanley creating a memorable backdrop perfect for any occasion. I'll give it an A.